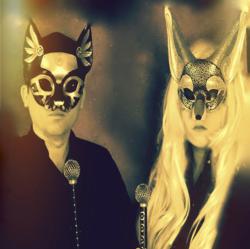 New York, NY (PRWEB) July 01, 2013
New York-based Experimental duo Vicava announced the release of their latest single "Keep Serving" on major online music outlets, including iTunes, Amazon and CDBaby. Released on KAAN Records, the song captures the soundscapes of dark/dance bands such as Depeche Mode with modern, edgy, female vocals.
The duo explains that "the song is written about being brought into this world pure, becoming tainted by society, and then having a moment of clarity that transforms you into something transcendent." Vicava released their official music video on YouTube in conjunction with the song release reflecting this vision.
The duo is ranked #1 on the ReverbNation Experimental charts for New York City, #5 in the United States and #11 Globally. A portion of sales from Vicava's debut single "Someday" were donated to the charity Half The Sky Movement that ignites the change needed to put an end to the oppression of women and girls worldwide.
Vicava is an experimental duo from New York City; an eclectic collaboration that refuses to be pinned down, their improvisational sound plays with the idea of genre. With their soothing, yet eerie cerebral approach and proclivity for moody tempo changes, expect to hear something different in every listen. Their first single is set to release June 25th under KAAN Records.
Gifted with a distinct power to reach out, Calen picked up his guitar at the age of 4, and since has treated every instrument as though it has always belonged to him; an extension of his fluidity and grace. And for Virena singing was her truest expression of love; to give. She started to shy away from her ability as the sounds outside of her became louder than those within, she could no longer hear the message of her sensibilities. Virena almost became a mere observer, bitter and snark, writing about an indifferent world that left her cold. That was until Calen's tone found its way into the heart of the musician emerging from behind the page, and into the song. Calen and Virena crossed paths in the summer of 2012. When their eyes met, their faces grew pale in total recognition. It was a fearless vibration that permeated the atmosphere and forever changed the bounds of what they could do. Vicava is their world now.
Website: http://www.planetvicava.com
Follow Vicava on these social media sites:
https://twitter.com/VICAVAmusic
http://www.reverbnation.com/vicava
https://www.facebook.com/VicavaMusic
https://www.youtube.com/user/VICAVAVISUALS