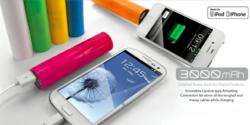 Sales have been getting stronger and stronger every month, people need more power.
Australia (PRWEB UK) 1 July 2013
As mobile phones require more and more power, 3G and now 4G and consumer usage is skyrocketing, the power consumption of smart phones is increasing significantly. The powerbank, or portable phone battery market is developing fast, market leaders Plox have released both the 3000 & 6000 range and are innovating fast.
An Apple iPhone sucks around 1500mAh of juice per battery and we all know how fast they can go from full to empty. This is something that has not be lost on the consumer market with Powerbanks, also known as portable batteries becoming a must have item. This demand has driven innovation and powerbanks are evolving quickly and in every direction. Plox in particular are innovating in the direction of inbuilt cables, something that the market is snapping up.
The product evolution has led to much demanded feature, the built in cabling for powerbanks. This simple, yet useful feature allows the consumer to simply plug their powerbank directly into their phone without carrying any other cables, connectors or wires. It is an obvious step in a market that is moving towards wireless technology.
Plox, the market leader in Australia has released three powerbanks to the market, the 3000mAh, 4500mAh & 6000mAh all targeting specific applications and consumer groups. It doesn't look like there is any chance of it slowing down, according to Sean Andrews of Plox, "Sales have been getting stronger and stronger every month, people need more power."
As the market grows, more and more products will enter the market, the product innovation will be the next big leap forward and Plox is at the forefront of design and development investment. It will be interesting to see if they will be the first ones to release wireless powerbank technology to the market.