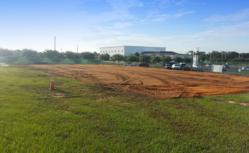 Montverde Academy has been uniquely selected by the Johan Cruyff Foundation as the first location in the United States to continue to promote their mission of wellness and respect in the community
Montverde, FL (PRWEB) July 03, 2013
Montverde Academy announces it has been selected by the Johan Cruyff Foundation as the home site location for the first ever "Cruyff Court," a small-sided community soccer field, to be built in the United States, which is expected to open later this year. The purpose is to reach out to Orlando youth by building a place that promotes living well, fighting obesity and providing sporting opportunities for those with special needs.
"As Headmaster, I am certainly excited that Montverde Academy has been uniquely selected by the Johan Cruyff Foundation as the first location in the United States to continue to promote their mission of wellness and respect in the community," said Dr. Kasey C. Kesselring. "This concept fits our core values as an institution at the Academy and I look forward to working with the Johan Cruyff Foundation to provide opportunities for all children."
John Cruyff, founder and world-renowned Dutch soccer legend, was inspired to begin the John Cruyff Foundation in 1997 after he taught his neighbor, a boy with Downs Syndrome, some basic soccer skills while living and playing professional soccer in the United States. Since then, Cruyff has led the foundation on a crusade to help millions of children around the world through the construction of small-sided soccer fields internationally known as "Cruyff Courts". With nearly 180 courts operating in communities around the world, the Cruyff Court Montverde Academy will be the first of its kind on U.S. soil.
Carole Thate, director of the Johan Cruyff Foundation, says that the foundation is proud to be building the first Cruyff Court in the United States at Montverde Academy. "It's a fantastic opportunity to create a stage on which, via the Montverde Academy community outreach program, the kids and young people from the greater Orlando area get a chance to become more active, play together, and use soccer as a means to help them in their personal development," says Thate.
A location for the Cruyff Court Montverde Academy has been selected and construction is already underway.
"We intend to complete the Cruyff Court Montverde Academy at some point in the near future so that we can begin our community outreach efforts with the Johan Cruyff Foundation this fall," says Dr. Kesselring.
About Montverde Academy
Montverde Academy is an international, coeducational, independent college preparatory school for grades PK3-12, with a boarding program serving grades 7-12, and post-graduate studies. Its mission is to inspire students to become knowledgeable leaders with global vision that instils a passion for learning and nurtures character development in a disciplined and diverse community. Five generations of Montverde Academy graduates have been guided by three fundamental principles of Knowledge, Character and Community with its international character adding an exciting dimension to the community and the overall educational experience. For further information about Montverde Academy, please contact Mr. Mike Potempa, at mike.potempa(at)montverde(dot)org.
About the Johan Cruyff Foundation
The Johan Cruyff Foundation was established in 1997 as a result of Johan Cruyff's aspiration to get children moving. Since its launch in 1997, the Johan Cruyff Foundation has been growing into an organization that keeps youth in motion every day. The Foundation realizes this by building Cruyff Courts (public playgrounds that give children back their play area), creating Schoolyard14's (upgraded challenging schoolyards that invite children to become more active), by supporting sport projects for children with disabilities and by organizing unique sport events for youth. For more information about the Cruyff Foundation, visit http://www.cruyff-foundation.org
For further information on this particular Cruyff Court, please contact Mr. Ilja van Holsteijn at +31 20 305 77 66 or via e-mail at info(at)cruyff-foundation(dot)org.