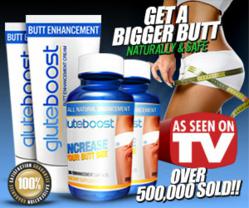 Get a Bigger Butt w/ Gluteboost
Houston, TX (PRWEB) July 11, 2013
In conjunction with the release of their new butt enhancement cream, Gluteboost has officially released new details about the product's main active ingredients VoluPlus and Volufiline on its website. These natural active ingredients, derived from a combination of plant extracts, offer volumizing benefits, helping women improve their curves and get a bigger butt.
"Our new butt cream contains powerful, clinically-tested ingredients that have been shown to increase the volume of the buttocks and women's curves, while also tightening and smoothing their skin," said Jonathan Weisman, President of Gluteboost. "Already, some of our customers are reporting some amazing results with our butt enhancement cream. We enjoy seeing these results and success stories every day."
While Gluteboost butt cream contains a host of natural ingredients designed to increase butt size, the two primary active ingredients are VoluPlus and Volufiline.
VoluPlus is natural ingredient derived from nutmeg that provides a volumizing effect by increasing the density of adipose tissue. It acts on cells which retain corporal fat, helping to make curves fuller.
Volufiline is derived from a combination of plant extracts, and it works to stimulate the development of fatty tissue. When applied directly to the body, Volufiline works to increase fat in the area that it is applied. This provides permanent results rather than temporary swelling. Thus, by applying Gluteboost cream directly to the buttocks, the product is designed to provide long-lasting butt enhancement results.
"We spent an extensive amount of time researching all of the ingredients in our butt cream, and we formulated the precise combination of active ingredients that delivers the best possible results," said Weisman. "Gluteboost butt enhancement cream also contain natural ingredients that help tighten and moisturize the skin, helping to reduce the appearance of stretch marks and improve overall skin health."
For more information on Gluteboost butt cream or their butt enhancement pills, please visit http://www.Gluteboost.com.
About Gluteboost
The Gluteboost (http://www.gluteboost.com) line of all-natural products help women increase their glute size while trimming fat from unwanted areas. Manufactured in FDA-approved facilities, Gluteboost Butt Enhancement Pills have sold more than 250,000 units to date. Gluteboost Buttock Enhancement Cream was released in Spring 2013. Gluteboost embraces customer feedback, has top-rated customer service, and boasts a 100% satisfaction guarantee. For more information, please call toll-free at 1-800-926-6787 or email jw(at)gluteboost(dot)com.