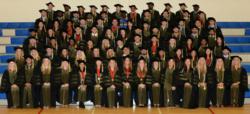 I am thrilled to announce the UNE College of Pharmacy has received full accreditation status. This has truly been a team effort.
-- UNE College of Pharmacy Dean Gayle Brazeau, Ph.D.
Portland, Maine (PRWEB) July 01, 2013
The University of New England College of Pharmacy has attained Full Accreditation Status from the Accreditation Council for Pharmacy Education, the national agency for the accreditation of professional degree programs in pharmacy.
This review was based upon due consideration of the ACPE Evaluation Team Report dated April 30–May 2, 2013, the College's self-study, and other communications received from UNE.
Dean Gayle Brazeau, Ph.D., says, "I am thrilled to announce the UNE College of Pharmacy has received full accreditation status. This has truly been a team effort involving the leadership and support of President Ripich and the UNE Board of Trustees, as well as the dedicated efforts of our talented faculty, staff and students and the support of our many preceptors, partners and supporters of the College."
A new college of pharmacy must attain the various levels of accreditation necessary at the appropriate time in the college's academic program development. The University of New England's College of Pharmacy progressed successfully through all stages over the past four years, from precandidate status in June 2009 to candidate status in June 2010, 2011 and 2012. This final step in the accreditation process – the granting of full ACPE accreditation for the UNE Doctor of Pharmacy Program – came soon after UNE graduated its inaugural class of pharmacy students on May 18, 2013.
The accreditation term granted for the Doctor of Pharmacy program extends until June 30, 2015, which is the customary two-year term for a new program receiving Full Accreditation Status. An on-site evaluation for purposes of continued accreditation of the program will be scheduled for the academic year 2014-2015.
About University of New England
The University of New England (UNE) is an innovative health sciences university grounded in the liberal arts, with two distinctive coastal Maine campuses and unique study abroad opportunities. UNE has internationally recognized scholars in the sciences, health, medicine and humanities; offers more than 40 undergraduate, graduate and professional degree programs; and is home to Maine's only medical and dental schools. It is one of a handful of private universities with a comprehensive health education mission including medicine, pharmacy, dental medicine, nursing and an array of allied health professions. UNE's interprofessional education initiatives prepare future healthcare professionals to practice comprehensive and collaborative team-based care. Both graduate and undergraduate students engage in research and scholarship alongside dedicated faculty who are committed to their academic and professional success.