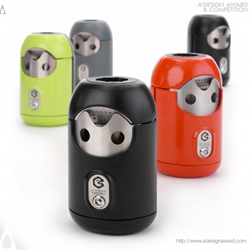 Como, Italy (PRWEB) July 01, 2013
A' Design Award and Competitions are proud to announce that the project Smartstreets-Smartbin™ by Chris Garcin and Andrew Farish has been announced as a winner of the famous Platinum A' Design Award at Social Design Competition selected as one of the winners by the international judging committee of the A' Design Award & Competition amidst numerous participants.
More information on Smartstreets-Smartbin™
The Smartstreets-Smartbin™ project is a multiple patented litter bin with unique capabilities, the Smartbin™ complements existing street infrastructure mounting as a twin, back-to-back around any size or shape of lamp post or sign post, or in solo format onto walls, railings and plinths. This releases new, unexpected value from existing streets assets to create networks of convenient, predictably located cigarette and gum litter bins which are always within reach, without adding clutter to the street scene. The Smartbin is transforming street care in cities worldwide by enabling an effective response to cigarette and gum litter.
To learn more, please visit: http://www.adesignaward.com/design.php?ID=28801
The Platinum A' Design Award
The Platinum A' Design Award is a prestigious award given to top 1% percentile designs that has exhibited an exemplary level of greatness in design. The designs are judged by a panel of three different jury which is composed of Academic, Professional and Focus Group Members. The designs are evaluated with score normalization to remove any biases and are voted on aspects such as functionality, ergonomics, engineering, presentation, innovation, usability, fun details, technology, and any other specific points that could be considered, each of these points are further weighted for different jury groups.
About A' Design Award and Competitions
A' Design Award and Competitions, aims to highlight the excellent qualifications of best designs, design concepts and design oriented products. A' Design Award and Competitions are organized and awarded annually and internationally in multiple categories to reach a wide, design-oriented audience. To learn more visit: http://www.whatisadesignaward.com