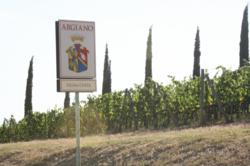 Argiano emerges as the only winery in Montalcino to be prosecuted, appeal and be absolved of all charges.
Montalcino, Italy (PRWEB) July 08, 2013
In a Siena court ruling on May 15th Tuscan wine producer Argiano was absolved of all charges involving the 2003 Brunello wine scandal.
The Giudice del Tribunale di Siena concluded the proceedings, acquitting Argiano because "there was no evidence to support the charges."
This ruling, following the media hype which caused the scandal that enraged wine lovers throughout the world, sees Argiano emerge as the only winery in Montalcino to be prosecuted, appeal and be ­absolved of all charges. The final decision upholds Argiano's position from the beginning that the charges were ­groundless.
The acquittal removes the cloud that has hung over the heads of then owner Countess Noemia Marone Cinzano, ex CEO Giampiero Pazzaglia and winemaker Hans Vinding-Diers since proceeding began in 2009. In 2013, Argiano ownership was transferred to Andre Esteves and a group of Braziliano investors. Hans Vinding-Diers retains his role as consulting winemaker at the property.
"After the long process, the successful full acquittal for this now becomes a promising source of satisfaction for the whole company and gives us a renewed enthusiasm for development programs that the new owners intend to continue in order to increase and improve the vineyards of his historic and unique estate," says Argiano Administrator Giorgio Gabelli.
Tribunale di Siena: Disciplinary Case: 1908/07, Penal Proceeding: 2397/07
About Argiano
Since 1500, noble families have produced wines from the vineyards, which were acquired by the Countess Noemia Marone Cinzano in 1992. The estate of Argiano extends over 250 acres in a fantastic rural environment. The reasonable altitude allows the vineyards to benefit from the warm Maremma winds, thus creating a mild microclimate, with many clear days during the entire phase of vegetation, essential to both the health and complete maturation of the grapes. In the winery, Hans Vinding-Diers and Adriano Bambagioni combine their extensive experience to craft elegant wines that celebrate Tuscany's flagship varietal and Argiano's distinct microclimate to the fullest. In 2013, Andre Esteve and a group of passionate Brazilian investors purchased the estate in order to preserve this historic property and refocus efforts on the cultivation of terroir-driven wines.