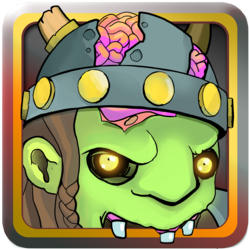 Featuring a very challenging single player campaign, and split screen multiplayer on the iPad, players will be able to easily competitively battle with their friends and family, using the same device
Shanghai, China (PRWEB) July 03, 2013
HC3 Creative is proud to announce that Zombie Viking Clans In Valhalla is now available from the App Store on the iPad and iPhone. Zombie Viking Clans in Valhalla is an innovative Castle Offense Game in which players must battle hordes of other Zombie Vikings in an ever ongoing battle in the mythical realm of Valhalla.
Featuring a very challenging single player campaign, and split screen multiplayer on the iPad, players will be able to easily competitively battle with their friends and family, using the same device - as they employ swordsmen, archers, cavalry, and more on the battlefield to show in Valhalla who is the strongest Zombie Viking of all time.
In Zombie Viking Clans In Valhalla, players take control of an army of dead Vikings. Players can then battle versus the computer in set challenges, or play pitched battles with their friends. Players gain resources for each enemy unit killed in battle, and these are used to upgrade and modify their troops, to fit players' individual strategies.
Zombie Viking Clans In Valhalla features multi-touch interaction with an intuitive user interface which uses the full retina display.
The Zombie Viking Clans In Valhalla app is available from the App Store on iPad and iPhone, at:
https://itunes.apple.com/app/zombie-viking-clans-in-valhalla/id656616594?mt=8.
About HC3 Creative
We believe in challenging human abilities, and by doing so, grow them.
We do this by creating streamlined challenges that are fun, increasingly difficult, and rapidly repeatable.
Registered in Hong Kong, China, the work is done by a collaboration of artists from around the world. With Norwegians, Chinese, Philippines, Americans, and British, it is a truly international product. For more information on HC3 Creative and the apps, visit: http://www.zombievikings.net. This is the 5th app released by HC3 Creative.
Henrik Saetre
HC3 Creative