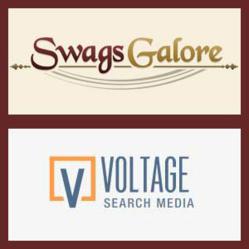 A 7X ROI is expected, which will yield a 5% increase in the company's return on investment
Lakeville, PA (PRWEB) July 02, 2013
Swags Galore, America's leader in selling affordable prepackaged Curtains and Valances online has partnered with Voltage Search Media to manage their PPC campaign. Voltage Search Media EVP Mark R. Brown will use Voltage Search Media's proprietary S3 platform software to manage all of the PPC campaigns.
Management of Google's Ad words & Google product search is the key. The algorithms in the software will analyze Swags Galore keyword data & place bids apprise to decrease cost & increase ROI (return on investment).
A 7X ROI is expected, which will yield a 5% increase in the company's return on investment.
This will be achieved, by analyzing which key words perform the best, with lowest bid prices. The software is capable of changing the bids simultaneously, as their competitor's change theirs.
It will drill down using the vertical hierarchy of the company's key words, making systematic targeted campaigns for each subsection & when the customer clicks on the ad they will land on the page they looking for.
Since Google is credited for 75% of all paid traffic, they will primarily focus on those campaigns. They will also be managing the Microsoft ad center account, which places ads on Yahoo & Bing. Adcenter now has an option where Google campaigns can be loaded, so a separate campaign is not necessary.
In addition, they will manage their Price Grabber (Yahoo product search) & shopping.com (eBay ecommerce) PPC accounts.
Swags Galore will continue to partner with companies to increase revenue share in this extremely competitive ecommerce window treatment industry.
To learn more about their products, visit http://www.swagsgalore.com
About Swags Galore Inc.
Swags Galore was founded by Melinda and Eugene West of Shirley, New York in 1999. It was Melinda's vision to sell affordable window treatments online and in 1999 she designed and launched their first web site, originally selling scarf panels she made from home. In 2000 the business outgrew Melinda and Eugene's home and they expanded into a warehouse in Yaphank, New York, quickly out growing that. In 2005 Melinda and Eugene made the decision to move to Lakeville, Pennsylvania where they built their corporate headquarters and distribution center. Today, the company is the leader in their industry selling low cost window treatments to retail consumers.