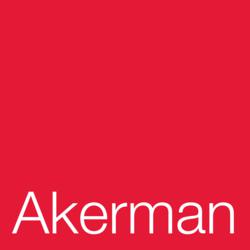 "Scott is a talented immigration lawyer with years of experience representing employers with multinational workforces." - James Bramnick, chair of Akerman's Labor and Employment Practice Group
Miami, Florida (PRWEB) July 02, 2013
Scott Bettridge has joined Akerman Senterfitt as a shareholder in the firm's Labor and Employment Practice Group in Miami where he will focus on corporate and individual U.S. immigration matters.
Bettridge works with a diverse set of global clients, including multinational organizations and investors in the financial services, IT, energy, fashion, insurance and healthcare sectors. He concentrates his immigration practice in global workforce mobility issues, including due diligence considerations and risk management assessments for mergers, acquisitions, restructurings, downsizings and start-ups. His practice includes all aspects of corporate U.S. immigration, including nonimmigrant visas, permanent residence, labor certification, EB-5 issues and I-9 review and compliance. Additionally, Bettridge represents individuals in family-based immigration and citizenship matters.
"Scott is a talented immigration lawyer with years of experience representing employers with multinational workforces," said James Bramnick, chair of Akerman's Labor and Employment Practice Group. "His diverse skillset in international employment law is of tremendous value to Akerman clients and enhances our ability to assist them in managing complex employment issues triggered by cross-border transactions."
Bettridge joins Akerman after serving as an office managing partner at Fragomen, Del Rey, Bernsen & Loewy LLP.
The Akerman Labor & Employment Practice Group defends employers in virtually every major industry throughout the United States in all types of employment litigation, including class and collective actions, under federal, state, and local employment laws and the Fair Labor Standards Act. The group also represents employers in connection with employment law compliance, labor relations, ADA public access, workplace safety, global workforce issues, immigration, and non-compete or trade secret issues.
About Akerman Senterfitt
Akerman is a leading transactions and trial law firm known for its core strengths in middle market M&A, within the financial services and real estate industries, and for a diverse Latin America practice. With more than 550 lawyers and government affairs professionals and a network of 19 offices, it is ranked among the top 100 law firms in the United States by The National Law Journal NLJ 350 (2013). Akerman also is ranked among the top 100 law firms for diversity by MultiCultural Law magazine (2012) and recognized as the Law Firm of the Year for Diversity – South by Benchmark Litigation (2012). More information can be found at akerman.com or twitter.com/akerman_law.