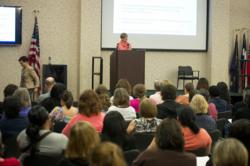 It's definitely a team effort and an all hands on deck approach.
(PRWEB) July 02, 2013
In preparation for the Atlantic hurricane season, which began June 1st, Acadian's North University Campus hosted the Department of Health and Hospitals for their regional disaster training.
Over 200 DHH employees were briefed by DHH emergency preparedness officials on Louisiana's most current emergency preparedness plans, which help emergency responders prepare for not only hurricanes, but a variety of natural and man-made disasters. DHH's plans cover everything from evacuations, to sheltering special needs residents, to Strategic National Stockpile planning.
In the event of a large scale emergency, DHH sets up a command center, where DHH, Acadian and hospital representatives can be found in one central location during a disaster. "It's definitely a team effort and an all hands on deck approach," said Donnie Simon, Health Safety and Environmental coordinator for Acadian.
Simon understands the benefits of a proper and well-thought-out plan, as Acadian covers 33 Louisiana parishes, with operations in Texas and Mississippi. "Texas has their support in place to help Louisiana operations, and Louisiana operations also have plans to support Texas operations should they experience a disaster."
Acadian Ambulance is committed to their patients and their communities. They are an emergency and non-emergency medical transportation provider to Louisiana, Texas, and Mississippi.
Since 1971, Acadian has provided the highest level of emergency medical care and transportation possible. In the past decade, the company has expanded to include a diverse suite of services in health, safety, and transportation. Acadian's six divisions are Acadian Ambulance Service, Acadian Monitoring Services, Air Med, Executive Aircraft Charter Service, National EMS Academy and Safety Management Systems.