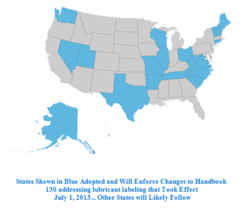 And if the fast lube, new car dealer or other installer servicing my car is unwilling to put such information in writing on my receipt, I would go somewhere else for an oil change
Metuchen, NY (PRWEB) July 02, 2013
July 1, 2013 was Good Day for Car Owners. It's the day changes to the National Institute of Standards and Technology, U.S. Department of Commerce Handbook 130 kick in that require consumers are provided with the Information they need to help assure the motor oil going into their car is right for their car and does not void their warranty.
In short, the changes require that fast lubes, new car dealers, and others that change motor oil for a fee (installers) must let you (the consumer) know the brand, SAE viscosity grade, and API service classification of the oil they use to service your car. This information must appear on the receipts consumers receive from motor oil installers in the states adopting changes to Handbook 130. Further, this information must also appear on the bulk tanks and other storage containers installers use to service cars.
Whereas most would think (understandably) that providing such information is basic to a consumer right to know, shockingly, up until yesterday, installers were not required to provide this information to consumers in any State in the Union. Instead, they could simply say the motor oil and filter was changed. But with what oil? Who knows unless the installer is willing to put it in writing and up until now, they were not required to.
The Petroleum Quality Institute of America (PQIA) says this requirement is a long time in coming and installers have had a year to prepare for it. In fact, the president of the Petroleum Quality Institute of America, Thomas F. Glenn says, "Such information is basic to protecting what for many is the second largest invest in their lives – their car." And to this point, Glenn says, "There is no way I would have the motor oil changed in my car without knowing the SAE viscosity grade, API Service Classification, and Brand of the product used." Further, Glenn adds "I want to be sure the motor oil used to service my car is appropriate for my car and meets the requirements set forth by the engine manufacturer to assure my car's warranty remains in place. And if the fast lube, new car dealer or other installer servicing my car is unwilling to put such information in writing on my receipt, I would [quickly] go somewhere else for an oil change."
So once again, it's a good day for car owners.
As of yesterday, twenty states adopted and will enforce changes to Handbook 130 that require installers to document (on sales receipts) the service classification, viscosity grade, and the brand of motor oil used to service their customer's cars. If you are in one of these states, look for this information on your receipt. And if you not in one of the states adopting these changes, ask why not.
For more information and to see the states adotping the changes, see http://www.pqia.org.