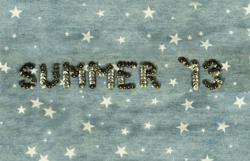 Los Angeles, CA (PRWEB) July 05, 2013
Summer is finally here, and Los Angeles contemporary brand, standards & practices, releases new lightweight summer denim and silk tanks for the premium denim lover on a budget. From cobalt blue and metallic coated skinny jeans to pop-floral printed short shorts and jewel-toned silk tanks, the brand offers a splash of fun to one's summer wardrobe.
As with every collection, standards & practices commits to being eco-chic through the use of Ozone Technology on all of their indigo denim. This treatment significantly minimizes the impact of the company's manufacturing processes on the environment.
This season's newly released sheer silk tanks offers the most flattering silhouettes. Ladylike layers, feminine floral prints, electric color with a touch of whimsy without breaking the bank.
Celebrity fans include Carrie Underwood, Khloe Kardashian, Jessica Alba, and Victoria Justice.
About standards & practices
Meet standards & practices, denim for the premium label lover on any budget. Conceived to deliver the fit, feel and styling of your $200 jeans at a price that's anything-but, Standards & Practices is dedicated to the girl keeping on-trend and on-budget. Always fashion-forward and figure-flattering, standards & practices has earned a fan following spanning Hollywood insiders and savvy fashionistas from coast to coast.
Greener technologies. Cleaner environment. Innovative design.