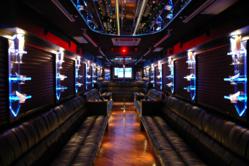 Los Angeles, CA (PRWEB) July 03, 2013
Southern California is an ultimate travel destination that's full of numerous amazing sights and sounds to take into your memory. From the pristine beach cities to the glitz and glamour of Hollywood, Southern California has something for everyone at every corner, and now visitors and residents can create their own private or business events in the vast floor space that Southern California has to offer. Many Global corporations find Hollywood to be one of the hottest spots to promote their new brands, and products. Hollywood is considered to be the world stage, and the entire world notices the waves that are created there. Hollywood has long been dubbed "the City of Dreams" because there is always something big happening all throughout the day, and even at night. This is a power house of a city that has the power to breathe life into everything that is connected to it. Luxury Sports Limousine has its own "Meetings & Events division" to help organize events that would empower a business model or a personal party to a whole new level. Luxury Sports Limousine has the ability to manage the corporate group transportation needs of corporate groups from the early planning stages to the final event. Luxury Sports Limousine is always there with their clients at every step of the way for quality assurance. Luxury Sports Limousine is known for providing nothing but the best skills to the table and delivering nothing but value for their customer's money.
Luxury Sports Limousines' party bus fleet is unmatched and ready to be a part of the Southern California Experience, from big corporate "Meetings & Events" to weddings and private parties or just for an unforgettable "night on the town". Luxury Sports Limousine's party bus fleet can take up to fifty passengers at a time to such destinations as the Hollywood Bowl, Staples Center, Dodger Stadium and Disneyland. Luxury Sports Limousines also offers one day excursions to California vineyards for wine tasting tours.
Luxury Sports Limousines deals with every big Southern California event that requires special attention for smooth service. Luxury Sports Limousines hires only the best people in the industry, and empowers them with the right training to handle every passenger's needs and special requests. The dedication involved in the duration of the whole service never dwindles, and always burns bright to empower your whole event. Luxury Sports Limousines can always keep the response time of their professional team at the highest level to keep up with the changing needs of the event to ensure its success.
About Luxury Sports Limousines
Luxury Sports Limousine can be easily accessed with their "Reservation System", which is available 24/7. This is an important part of Luxury Sports Limousine's service that is given to provide a consistent service all throughout the year. Online reservation through our website is always available to make business trip supervision much more manageable. All the generated receipts and invoices after the event can be easily accessed via the online account. These resources are available to their clients at the most cost effective rates after maximizing the output with the best systems in the world. We provide a single statement for combined corporate events transportation with individual details of every event in that single bill. This consolidated invoice is sent at the end of your event which can be sent through e-mail or fax. This system allows you to deal with only one invoice instead of a numerous bills that might add confusion. Luxury Sports Limousines can be contacted directly at (800) 983-9824 or by visiting http://www.luxurysportslimousines.com