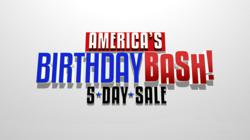 Gerald Tempton, President, says, "We invite everyone to help us celebrate this 4th of July weekend as we wish America a Happy Birthday....Don't miss the Biggest Birthday Bash America has ever seen!"
Austin, Texas (PRWEB) July 04, 2013
Liquidation Channel (LC), a leading source of affordable rare and exotic gemstones, jewelry, and lifestyle products announces its 4th of July Weekend Sale and the return of the Diamond Smackdown.
Celebrate this 4th of July weekend with LC during their America's Birthday Bash – Five-Day Sale going on Thursday, July 4th through, Monday, July 8th. This exciting event is going to be jam-packed with countless deals, and items marked up to 80 percent off. LC will kick-off its Five-Day Sale on Thursday, July 4th and feature two days of Sparkling Savings Under $10 on Friday and Sunday. Then on Saturday, July 6th stay tuned as they feature 24 hours of diamonds with the return of the Diamond Smackdown. Rounding out the star-studded weekend LC will have a Stars and Stripes Sale on Monday, July 8th featuring eight hours of Santa Fe Style jewelry. Gerald Tempton, President, says, "We invite everyone to help us celebrate this 4th of July weekend as we wish America a Happy Birthday. We will be bringing many surprises and deals, including our special Birthday Deals, and much more. Don't miss the Biggest Birthday Bash America has ever seen!"
Headquartered in Austin, TX, Liquidation Channel, is a multichannel retailer with a 24/7 home shopping channel and website offering online catalog, live television stream and $1 Rising Auctions. With a more than 80 million household reach, Liquidation Channel is one of the fastest growing jewelry and lifestyle retail businesses in the U.S.
About Liquidation Channel: Liquidation Channel (http://www.liquidationchannel.com) is a global leader in direct sales of colored stones, diamonds, precious metals, and a variety of luxury goods and innovative products. Through a precisely and fully integrated system, the Liquidation Channel specializes in delivering exceptional quality, exquisite designs, and outstanding value, while providing a low-price guarantee on each of its products. The store's unique jewelry is available online at LiquidationChannel.com and on DirecTV Channel 75 and 226, Dish Network Channel 274, Verizon FIOS Channel 152, ROKU and local cable channels.