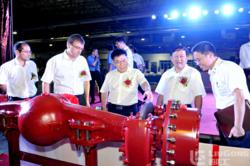 It marks a new level of our excellent cooperation with ZF, the world's leading automotive industry supplier, demonstrating our determination in the heavy machinery industry
Liuzhou, PR China (PRWEB) July 06, 2013
On June 9th, LiuGong and ZF held a celebration for the completion of the first prototype JV axle (AP3000), which was produced by their new Joint venture company, ZF Liuzhou Axle Co. Ltd.
It is not the first time these two parties have worked together to promote the progress of construction industry. In 1995, LiuGong and ZF started their long term relationship by setting up "Liuzhou ZF Machinery" to produce construction transmissions and spare parts. It has been successfully serving joint venture partner LiuGong and third parties with high quality construction machinery transmissions for years.
After the continued success of the first JV with ZF, LiuGong and ZF built a new joint venture together last September, focusing on wheel loader axles that are specially tailored for the requirement of developing markets. Located in the same city together with LiuGong, the new ZF Liuzhou Axle Co. Ltd. is targeting an increase in annual volume to more than 30,000 units by 2018. "Liuzhou ZF Machinery has been a win-win example in the industry for years. Today, we come to another milestone with our new JV company, ZF Liuzhou Axle," says Wang Xiaohua, Chairman of the board for LiuGong. "I am very pleased to be here to unveil the brand new AP3000 axle. It marks a new level of our excellent cooperation with ZF, the world's leading automotive industry supplier, demonstrating our determination in the heavy machinery industry."
AP3000 was developed through the joint s efforts of research teams from ZF headquarters in Germany, ZF China and LiuGong. It can be assembled with dry or wet brakes, and is mainly designed for 5 and 6 ton wheel loaders. LiuGong's 855N will be the first machine equipped with the new axle, acquiring higher reliability, excellent load capacity, optimized cost and lubrication condition.
For more than 55 years, LiuGong Machinery Corporation has been a leader in China's construction equipment manufacturing industry. From building the country's first modern wheel loader, LiuGong has evolved to become one of the fastest growing, global, CE companies in the world offering a full line of extreme duty, intuitive machines for construction equipment owners constantly challenged to do more with less. LiuGong delivers opportunity to its employees, quality products and services to its customers, financial success to its investors, and community support in the regions it serves. To learn more about LiuGong, visit
ZF is a leading worldwide automotive supplier for Driveline and Chassis Technology with 121 production companies in 27 countries. In 2011, the Group achieved a sales figure of EUR 15.5 billion with more than 72,000 employees. In order to continue to be successful with innovative products, ZF annually invests about five percent of its sales (2011: EUR 754 million) in research and development.
Industrial Technology is the division where the ZF Group bundles its activities for "Off-road" applications. It comprises the development and production of transmissions and axles for agricultural- and construction machinery as well as driveline technology for material handling systems, rail- and special driveline vehicles. The division is also responsible for the worldwide business of marine propulsion systems, aviation technology as well as the development and production of wind power transmissions. Electronic components, shift- and test systems for all kinds of applications are also included in the division's portfolio.