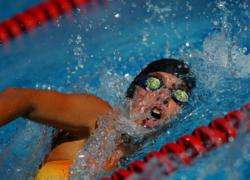 This GPS watch offers swim, bike and run metrics in the lightest and thinnest watch package made to date
(PRWEB) July 06, 2013
The new TomTom Multisport GPS watch is made for triathlon, cycling, running and outdoor sports enthusiasts that want to measure complete data metrics according to the Heart Rate Watch Company.
"This GPS watch offers swim, bike and run metrics in the lightest and thinnest watch package made to date," says Rusty Squire, President of the Heart Rate Watch Company. He adds, "The 8 hours battery won't complete a full Ironman but for a half, or shorter, it is a good option."
THE REAL AUDIENCE
"The TomTom Multisport GPS watch offers single button simplicity, high screen resolution and the fastest GPS satellite acquisition of any watch on the market," says Squire. He adds, "That being said, it won't be for the consummate data geek but it will find an audience with women because of its light weight and thin profile."
POINTS OF DISTINCTION
"The thin size, light weight, fast satellite acquisition and single button navigation simplicity make this watch unique in the marketplace," says Squire. He adds, "The serious triathletes will probably still favor the Garmin Forerunner 910XT but this is a good start for TomTom."
BLUETOOTH SMART COMPATIBILITY
The TomTom Multisport GPS watch can pick up signals from Bluetooth Smart sensors for cycling and running pace, as well as cadence. "This works but will be limiting for those looking to pick up cycling power since all power meters use ANT+," says Squire. He adds, "It's not a big deal for 98% of the market since only a small fraction own these very expensive power meters."
WHERE TO BUY
These TomTom GPS watches are available for purchase now at the Heart Rate Watch Company with delivery anticipated just after August 1st.
The cost of the unit is $199.99 with the heart rate version coming in at $249.99.