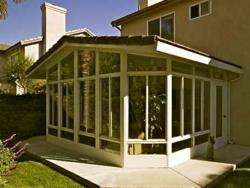 In Miami Beach, where neighborhoods are design-sensitive, custom design is a plus for many potential customers.
MIAMI , FL (PRWEB) July 08, 2013
Venetian Builders, Inc., has seen a market shift in Miami Beach toward retail-generated sales leads since its introduction in late 2012 and early 2013 of retail sales displays in nearby Home Depot stores, Venetian President Chris Noe said today.
"We have retail displays in five Home Depot stores very near Miami Beach, places that many people pass while commuting," Noe said. Venetian displays appear in the North Miami Beach, North Miami, East Hialeah, Calle 8 on SW 8th Street, and Coconut Grove Home Depots.
"All those displays are attracting the attention of Miami Beach residents, and really many more people than that," Noe said.
"In the first five months of 2013, we actually have a greater number of sales from Home Depot displays than from other sources in Miami-Dade, and that's a first for us," Noe explained.
The Home Depot displays were designed and built in Venetian's fabrication shops. Made of actual building materials, they unfold to show shoppers 8 running feet of material and design options. In late 2012 and the first quarter of 2013, Venetian placed the displays in 41 South Florida Home Depots.
Total residential sales volume for Venetian is up 150 percent at this point in 2013 over the previous year, Noe said. "And 2012 had been a record year for us, so the growth is only picking up," he said.
Miami Beach sunrooms, screen enclosures and patio covers, like everything the firm installs, are custom-designed. "That ensures that we get a look that's right for the home and the neighborhood," Noe said. "In Miami Beach, where neighborhoods are design-sensitive, that's a plus for many potential customers."
Venetian serves all neighborhoods in Miami Beach, including Bayshore, Biscayne Pointe, Flamingo/Lummis, Hibiscus Island, Mid-Beach, Nautilus, Normandy Isles, North Beach, Palm Island, South Beach, South Pointe, Star Island, Sunset Islands and Venetian Islands.
It also serves nearby communities, including Bal Harbour, Bay Harbour Islands, North Bay Village, Pointe Lake and Surfside.
The company installs quality solariums, patio enclosures and swimming pool screens in Palm Beach, Broward, Miami-Dade counties, and in the Keys in Monroe County.
For more information, call 866-596-2427.