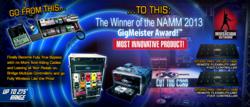 Production models for all to demo at booth #1124.
Beverly Hills, CA (PRWEB) July 08, 2013
FxConnectx, LLC is the first to perfect and release a full product line of wireless true bypass analog switch and control systems.
These product lines are available for purchase, distribution and/or OEM licensing/integration. FxConnectx intends to explore opportunities to expand their authorized dealer network with retailers globally, making their solutions available to every musician.
Manufacturers, distributors, and retailers are encouraged to visit FxConnectx at booth #1124.
FxConnectx, LLC technologies and solutions are "industry changing" and "must haves" for the professional musician. On day one of 2013 Winter NAMM in Anaheim, CA, FxConnectx was recognized by The Musicians Network, and was awarded "GigMeister™"- Award for most innovative product."
Schedule a demo:
Sales(at)FxConnectx(dot)com
CutTheCord(at)FxConnectx(dot)com
Company information, offerings, and product lines are available at their website - http://www.FxConnectX.com.