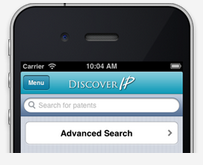 'We are delighted to contribute by facilitating mobile access to the global technology library represented by the over 100 million documents in our DiscoverIP database' - Quentin Tannock (Chairman)
Cambridge, Cambridgeshire (PRWEB UK) 10 July 2013
An industry first, the launch of DiscoverIP and its mobile application will provide seamless mobile access to the global patent library for innovators, industry experts, patent agents and others around the world.
CambridgeIP has developed a free iPhone and iPad App to DiscoverIP's global patent collection. The App is available for download on the iTunes store, and CambridgeIP will soon launch DiscoverIP Apps for Android and other mobile platforms.
DiscoverIP is by experts for experts, coming from the patent search experts at CambridgeIP. DiscoverIP hosts over 100 million patent and non-patent records from around the world, making it one of the world's most comprehensive patent search portals.
Quentin Tannock (Chairman, CambridgeIP) said
"An important part of CambridgeIP's mission is to enhance access to the information and resources relevant to innovation and to technology development.'
DiscoverIP is a leading online Patent search and analysis portal:

DiscoverIP has over 70 million patent documents indexed, together with over 30 million non-patent records, and comes with many collaborative working and analytics features built in.
DiscoverIP is an ideal tool to help with IP Landscaping, Prior Art Searches, Freedom to Operate reports, company patent portfolio research and building Patent Search reports.
DiscoverIP is from the patent search experts CambridgeIP.
DiscoverIP subscribers benefit from privileged access to CambridgeIP support.
Learn more here: http://discoverip.cambridgeip.com/
DiscoverIP App Key features

iPhone, iPad, iPod touch compatible
Mobile access to worldwide patent coverage – including over 70 million documents
Intuitive advanced query builder allowing for complex patent searches.
Save queries to re run at later date
Save Patents of interest
Offline access available for Patents accessed
Share patents via Twitter, email, sms or Facebook
Drawings, Abstract, claims
Save searches
   • Learn more here: http://discoverip.cambridgeip.com/mobile_patent
DiscoverIP key features:

Worldwide patent coverage – including over 70 million patent documents
Full text and claims available for all major jurisdictions (e.g. USPTO, EPO, PCT) and others
Drawings and searchable PDF documents available.
Personalized alerts and newsfeeds can be established
Export data and analysis options
Searchable PDFs
Non-patent literature searching, including publications, trademarks, clinical trials, drugs and medical devices
Share with clients and colleagues, capturing feedback and annotations
Advanced patent search forms
Detect patterns relationships and through intuitive visualizations, charts and graphs
Application Programmable Interface (API) access available to the entire DiscoverIP global patent collection
DiscoverIP Pricing
CambridgeIP has developed a range of flexible pricing options to meet client and user needs.
DiscoverIP is available through a 14-day free trial, so clients and users can decided what pricing model is appropriate for their business. More information on pricing models is available at: http://discoverip.cambridgeip.com/pricing. Please contact discoverip@cambridgeip.com with any questions or to arrange a call to discuss specific patent searching requirements.
Discounts
CambridgeIP is offering 10% off the one year plan, and 25% off the two year plan - this is equivalent to getting 6 months for free! Please contact us for more details on discoverip@cambridgeip.com.
About CambridgeIP
CambridgeIP is the global innovation and intellectual property consultancy.
CambridgeIP provides its clients around the world access to actionable research, insights, information and analysis. We assist our clients accelerate the development and deployment of their valuable technologies, make fact-based investment decisions and monitor their competitors. CambridgeIP additionally advises clients on improvements to their innovation and IP processes, helping them secure future value.
CambridgeIP is the first IP Landscape® company and owns the trademark IP Landscape®. We are experts in providing patent search services and IP strategy advice. In addition to IP Landscape® services, our patent search services include freedom to operate search, patent invalidity searches and novelty searches.
CambridgeIP's rigorous methodology and supporting systems enable the gathering and analysis of highly complex science literature datasets with consistently superior quality and delivery times. Working with high-quality datasets allows us to provide high-grade analytics (some of which are an industry-first) in support of strategic decision-making by our clients in the IP policy, IP strategy and R&D strategy fields, and in business strategy more broadly.
CambridgeIP's work has been covered in leading media outlets and publications, including the BBC, Bloomberg, Financial Times, Harvard Business Review, Nature Publishing Group and Wall Street Journal.
About CambridgeIP API & Data Services
CambridgeIP has launched a Data Services division which provides users with customised datasets, searchable PDFs and direct access to CambridgeIP's 100 million+ science and technology records by API. Contact Us to set up a meeting with a CambridgeIP expert to discuss your IP strategy and patent intelligence needs.
Resources & Contact Details
For media enquiries about CambridgeIP please contact us by email on info(at)cambridgeip(dot)com.