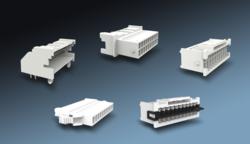 Shanghai (PRWEB) July 08, 2013
TE Connectivity (TE) today announced three new product additions to its successful Economy Power 2.5 (EP 2.5) connector series. The latest products extend the connector series to include single and double row wire-to-wire connectors, as well as dual row wire-to-board connectors. Application tooling, both automatic and semi-automatic, is offered to provide a complete customer solution by eliminating the need for customers to develop their own tooling device.
"As end products become more and more complex, and time to market is shortened, manufacturers need connector solutions that provide flexibility in both design and manufacturing processes to remain competitive and be ahead of the innovation curve," said Denise Quinnette, global power and signal interconnects product director, TE Appliances. "These latest releases for the TE EP 2.5 product line achieve great improvements in connector performance so manufacturers of home appliances, including refrigerators, dishwashing machines and air-conditioning units, can remain at the cutting edge of innovation."
Based on a 2.5 mm (0.098" pitch) centerline, the three new products – namely dual row wire-to-board connectors, dual row wire-to-wire connectors and single row wire-to-wire connectors – all share the features of TE's existing EP 2.5 products including high-efficiency plug housings, contacts, headers and terminal position assurance (TPA) devices.
Additional features for TE's EP 2.5 connector product line include:

Positive audible external locking latch that helps ensure complete system mating
Polarization tabs that prevent mis-mating with corresponding header
Anti-snag feature which prevents wire from snagging onto the latch
Asymmetrical shape that ensures proper attachment (terminals can only be loaded one way in the housing cavity)
All TE EP 2.5 product variations are available in versions compliant with glow wire requirements per IEC 60335-1. For more information, please visit http://www.te.com/products/EP-PR.
ABOUT TE CONNECTIVITY
TE Connectivity is a $13 billion world leader in connectivity. The company designs and manufactures products at the heart of electronic connections for the world's leading industries including automotive, energy and industrial, broadband communications, consumer devices, healthcare, and aerospace and defense. TE Connectivity's long-standing commitment to innovation and engineering excellence helps its customers solve the need for more energy efficiency, always-on communications and ever-increasing productivity. With nearly 90,000 employees in over 50 countries, TE Connectivity makes connections the world relies on to work flawlessly every day. To connect with the company, visit: http://www.TE.com.
© 2013 Tyco Electronics Shanghai Co., Ltd., a TE Connectivity Ltd. company. All Rights Reserved.
TE Connectivity, TE connectivity (logo) and TE (logo) are trademarks. Other products, logos and company names mentioned herein may be trademarks of their respective owners.
While TE has made every reasonable effort to ensure the accuracy of the information in this document, TE does not guarantee that it is error-free, nor does TE make any other representation, warranty or guarantee that the information is accurate, correct, reliable or current. TE reserves the right to make any adjustments to the information contained herein at any time without notice. TE EXPRESSLY DISCLAIMS ALL IMPLIED WARRANTIES REGARDING THE INFORMATION CONTAINED HEREIN, INCLUDING, BUT NOT LIMITED TO, ANY IMPLIED WARRANTIES OF MERCHANTABILITY OR FITNESS FOR A PARTICULAR PURPOSE. In no event will TE be liable for any direct, indirect, incidental, special or consequential damages arising from or related to recipient's use of the information. It is the sole responsibility of recipient of this information to verify the results of this information using their engineering and product environment. Recipient assumes any and all risks associated with the use of the information.
Media Relations:
Jeanne Wu
+(86)-21-33980729
Jeanne(dot)wu(at)te(dot)com
Product Communications:
Denise Quinnette
Global Product Director
+(1)717- 986-5059
denise(dot)quinnette(at)te(dot)com
Asia/Pacific:
Ocean Zhou
Product Manager
+(86)21-33980158
ocean(dot)zhou(at)te(dot)com
EMEA:
Pier Eugenio Grassano
Product Manager
+(39) 011-4012312
pegrassano(at)te(dot)com