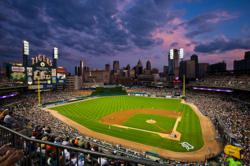 Denver, Colorado (PRWEB) July 10, 2013
The only rocket science happening here is the velocity and trajectory of the baseballs being belted out of the park. After all, it's summer and MLB Baseball hasn't been dubbed America's Favorite Pastime for naught.
Today's top trending sports ticket traffic is dominated by the boys with the bats, namely the Detroit Tigers, Los Angeles Dodgers, St. Louis Cardinals, New York Yankees, Pittsburgh Pirates, San Francisco Giants, Seattle Mariners, Chicago Cubs, Atlanta Braves, Baltimore Orioles, Colorado Rockies and Philadelphia Phillies.
"MLB Baseball continues to lead all traffic in sports ticket sales, while soon football tickets will also begin to trend at high levels," said Felina Martinez at online ticket marketplace BuyAnySeat.com.
"That's why we're proud to offer sports fans the most comprehensive and continuously updated selection of sports tickets online, with a worry-free guarantee to protect their purchase," said Martinez.
"To access the full line-up of MLB Baseball tickets now available, customers can go to BuyAnySeat.com and search for the MLB Baseball – then select their team and their tickets," said Martinez.
Just over 91 games through the 162-game regular season, the Boston Red Sox, the Detroit Tigers and the Oakland Athletics lead their divisions in the American League. The Atlanta Braves, St. Louis Cardinals and Arizona Diamondbacks lead in the National League.
To shop for cheap MLB Baseball tickets, visit BuyAnySeat.com.
About BuyAnySeat.com: An online ticket marketplace, BuyAnySeat.com connects sports, theater and other live entertainment fans to an extensive network of ticket sellers worldwide. The site's simplified listings and navigational tools enable shoppers to easily locate, compare and purchase inexpensive, discounted or lower-priced tickets to virtually all advertised sports and entertainment events around the globe.
The ticket marketplace, which is PCI-compliant and Norton Secured, also provides customers with a complete Worry-Free Guarantee on all ticket purchases. Based in Denver, Colorado, BuyAnySeat.com is a subsidiary of Denver Media Holdings. For more information, please visit http://buyanyseat.com.