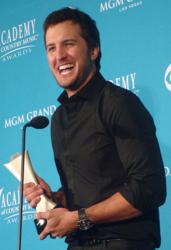 Diehard country music fans were introduced to Luke Bryan when he was Jason Aldean's opening act in 2012.
New York, NY (PRWEB) July 11, 2013
Diehard country music fans were introduced to Luke Bryan when he was Jason Aldean's opening act in 2012. As a result of his amazing success while on the road with Aldean, Luke announced his "Dirt Road Diaries" tour which will be on the road during the summer and early fall months of 2013. The tour is mainly performing at outdoor amphitheatres and pavilions. Opening acts for Luke Bryan's summer tour are: Thompson Square and Florida Georgia Line.
Luke Bryan is responsible for writing songs for many well known performers. His songwriting career began about 10 years ago and he has written for country stars such as Travis Tritt and Billy Currington. Luke received a guitar as a gift from his parents when he was a teenager. Shortly thereafter, he was performing with country bands at the local bar scene. Luke had aspirations of going into medicine, however, his brother was killed in a tragic accident. His friends and family encouraged him to follow his dreams and go into country music. Luke ultimately followed his dreams and country music fans nationwide are grateful that he made this decision.
Luke Bryan's concert at the PNC Bank Arts Center in Holmdel will be on Saturday, August 24th. This amphitheatre is located in the New York City metropolitan area and it has the distinction of being one of the most successful amphitheatres in the nation. It is managed by Live Nation and the amphitheatre seats 7,000 people and there is room for 10,500 concertgoers on the grassy area. This venue will host anywhwere from 35-45 events annually.
The concert date at the First Niagara Pavilion in Burgettstown will be on Saturday, September 28th. This popular pavilion is located about 25 miles west of Pittsburgh. Live Nation also owns and operates this venue. The pavilion can seat 7,100 and an additional 16,000 fans can sit on the grass. The venue has also been known as the Post Gazette Pavilion and the Coca Cola Star Lake Amphitheatre over the years. The very first performer at this amphitheatre was Billy Joel in 1990 and due to overwhelming respsonse, a second concert date was added the following evening. First Niagara Pavilion is noted for bringing in many A-list performers each year.
About CheapConcertTickets.me:
CheapConcertTickets.me delivers tickets to sold out concerts and events worldwide when no one else can, and they do so at discounted prices. As a member of TicketNetworkDirect, they can guarantee the delivery of Luke Bryan tickets, Taylor Swift tickets and Justin Bieber tickets along with tickets to thousands of other events worldwide. With CheapConcertTickets.me customer service is a priority, for more information email support(at)cheapconcerttickets(dot)me.