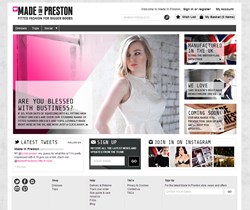 ...Everything is designed, sampled, graded, produced and packaged here at our factory in Preston by our work-force.
Preston, Lancashire (PRWEB UK) 15 July 2013
Made in Preston is a proudly British company dedicated to 'fitted fashion for bigger boobs!' and now their products are available to women everywhere, from their brand-new web shop.
With the help of eCommerce experts Radweb and graphic design agency Design Distillery, Made in Preston's unique designs can now be bought online.
This busty new brand is about celebrating bold women of the UK - all products are designed and manufactured in the industrial docklands of Preston. By making everything onsite Made in Preston can turn around stock faster than companies that import goods, and also provide jobs to the local area.
Nikki Hesford, the Managing Director of Made in Preston said, "As our name suggests, everything is designed, sampled, graded, produced and packaged here at our factory in Preston by our work-force. By shopping with us, customers are helping to resurrect a by-gone industry in the North West of England. The new website is a triumph and more sales will help us drive UK skills, bring back pride in our local heritage and create more UK jobs."
She continued, "At http://www.madeinpreston.com we are bursting into 2013 with a bit of attitude. Gone are the frumpy A-lines, stretchy wrap-arounds and chintzy smocks - women want sexy dresses, bold colours and fashionable fabrics that fit and now our website means that women all over the UK can get what they want. Working with the team at Radweb and Design Distillery we were able to specify exactly how the website should look and function so that our shoppers can easily find whatever they're looking for."
Radweb's Managing Director, Steve Rad said: "The website has been designed to showcase the very best Made in Preston has to offer. By working with Nikki and the team at Design Distillery we were able to capture the hard working roots of the company and then display them in a website that is as on trend as the products it sells. Incorporating all aspects of social media also allows the customers to interact with the brand, recommend clothes to each other and share tips on how to dress well for their figure."
He continued, "We love working with the team at Made in Preston as we share their passion for the UK and creating jobs. The web makes it possible to sell beyond the geographical area a company is based in which is perfect for giving UK businesses a chance to break into the marketplace."
Notes to Editors.
http://www.radweb.co.uk
http://www.madeinpreston.com
For further information please contact Steve Rad:
03333444505
steve(at)radweb(dot)co.uk
Portsmouth, UK Office:
+44 (0)33 33 444 505
12 Acorn Business Centre,
Northarbour Road,
Portsmouth,
PO6 3TH