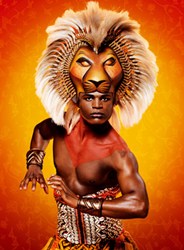 Denver, Colorado (PRWEB) July 13, 2013
After opening at the storied Minskoff Theatre on Broadway in 1997, The Lion King continues to prove particularly popular with people across the planet.
Now in its 16th year, the play has already won six Tony Awards, including Best Musical, and is the highest-grossing show in Broadway history.
It also continues to have an almost perfect rating of 4.7 out of 5 stars from audiences and critics alike. Plus, it continues to play to over 100 percent capacity in tracking data compiled by entertainment.link.com.
In addition, director-designer Julie Taymor's globally-acclaimed production now has a touring cast traveling across America and currently performing at the State Theatre in Cleveland, Ohio from July 9 to August 4, 2013.
Additional productions are also running in London, Hamburg, Madrid and Tokyo.
"The Lion King is very popular with family audiences," said Felina Martinez at online ticket marketplace BuyAnySeat.com. "While the majority of the performances begin to sell out closer to their show date, we always have a great inventory of tickets available."
"In fact, we're proud to be able to offer theatre-goers the most comprehensive and continuously refreshed selection of Lion King tickets, with a worry-free guarantee to protect their purchase," said Martinez.
"To access the complete listing of Lion King tickets we now have available, customers can go to BuyAnySeat.com and search for The Lion King – then select their tickets," said Martinez.
After Cleveland, the North American touring cast is booked for the Belk Theatre at Blumenthal Performing Arts Center in Charlotte, North Carolina from August 6 to September 1; the Benedum Center in Pittsburgh, Penn. from September 3 to 29; the Music Hall at Fair Park in Dallas, Texas from October 2 to 20; the Gammage Auditorium in Tempe, Arizona from October 22 to November 17; and the Pantages Theatre in Los Angeles, California November 20 to January 12, 2014.
The production then travels to the Blaisdell Concert Hall in Honolulu, Hawaii from January 14 to March 9; the Paramount Theatre in Seattle, Washington March 11 to April 6; the Fabulous Fox Theatre in Atlanta, Georgia April 10 to 27; the Princess of Wales Theatre in Toronto, Canada April 30 to June 15 and the Kennedy Center Opera House in Washington D.C. from June 17 through August 17, 2014.
Originally released as an animated musical adventure movie by Walt Disney in 1994, The Lion King has earned over $951 million worldwide as of 2011 and is the highest-grossing hand-drawn film in history.
The movie won two Academy Awards in music and a Golden Globe Award for Best Motion Picture, with its songs written by composer Elton John and lyricist Tim Rice and original score by Hans Zimmer.
The current Broadway adaptation opened in October of 1997, and is now the fifth longest-running Broadway show in history. Also, as of April 2012, it became the highest grossing Broadway show of all time, with over $853.8 million in receipts. (Source: wikipedia.org)
Directed by Julie Taymor, the brightly plumed musical paints a dreamscape of jungle characters in animal costumes as well as giant, hollow puppets. According to reviewers, Taymor's genius lay in cutting the sentiment with healthy doses of vaudeville and music-hall humor, and in enlarging and strengthening the female roles.
Plus the fabulous puppets of Taymor and Michael Curry - giant pachyderms, tiny shadows, stilt-walking giraffes, soaring birds, dancing grasslands – add to the wonder of the show.
Then there's Elton John and Tim Rice's hit songs (including "Circle of Life, "Hakuna Matata," "I Just Can't Wait to Be King," and "Can You Feel the Love Tonight"), Hans Zimmer's Oscar-winning score, and Lebo M's outstanding choral arrangements.
And, of course, there's the story. Ripe with influences from the biblical tales of Joseph and Moses, and plays Hamlet and Macbeth by William Shakespeare, it tells of the trials of Simba, a young lion who is to take his father Mufasa's place as king. However, after his uncle Scar kills Mufasa, Simba must stop his uncle from conquering the Pride Lands and avenge his father.
To shop for cheap Lion King tickets, visit BuyAnySeat.com.
About BuyAnySeat.com: An online ticket marketplace, BuyAnySeat.com connects sports, theater and other live entertainment fans to an extensive network of ticket sellers worldwide. The site's simplified listings and navigational tools enable shoppers to easily locate, compare and purchase inexpensive, discounted or lower-priced tickets to virtually all advertised sports and entertainment events around the globe.
The marketplace, which is PCI-compliant and Norton Secured, also provides customers with a complete Worry-Free Guarantee on all ticket purchases. Based in Denver, Colorado, BuyAnySeat.com is a subsidiary of Denver Media Holdings. For more information, please visit http://buyanyseat.com.