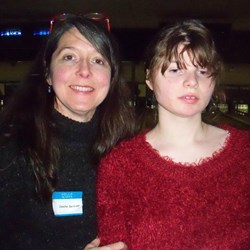 You can participate from anywhere in the country because we take advantage of video chatting tools like Skype or Google Hangouts.
Oconomowoc, WI (PRWEB) July 15, 2013
Imagine what you would do if you found yourself raising a child with special needs and had no one who could offer you support on a regular basis. Without family or friends to comfort, encourage and advise on this often-bumpy journey, it is not unusual for parents to feel isolated, discouraged, and confused.
That is why, beginning last Autumn, SNAPPIN' MINISTRIES (Special Needs Parents Network), a faith-based, non-profit in the State of Wisconsin began to pilot their new Parent Mentor Program. Today, they are ready to welcome parents who could use the support of their own mentor. Ready to offer a mentor match immediately, SNAPPIN' is also preparing a waiting list for parents wishing to be mentored by their new mentor-trainees in the Fall.
Certified mentors of this program are extensively trained, screened and supported before they are ever matched with a "mentoree" or parent looking to be mentored. The graduates of the certification program have gone through a minimum of 12 weeks of training, have been background checked, have letters of recommendation on file, and are parents of children with special needs themselves. This makes these mentors particularly excellent in guiding another parent facing challenges with their child.
When asked what other parts of this program make it unique, Executive Director, Barbara Dittrich, responded, "There are several components to our Parent Mentor Program that make it extremely unique. First, you can participate from anywhere in the country because we take advantage of video chatting tools like Skype or Google Hangouts. This is especially helpful for parents feeling isolated or lacking connections in their immediate area. Second, we are the only program in the nation that connects both the special needs parenting aspect with the faith aspect. No other program in the nation marries the two."
Parents can apply for their own mentor by e-mailing barb(at)snappin(dot)org for paperwork. Additionally, more details on some of the benefits of the program are available online at the organization's leadership blog.
SNAPPIN' MINISTRIES, headquartered in Oconomowoc, WI, provides parents with support nationally through this one-of-a-kind parent mentor program, TLC baskets and gift cards for hospitalizations, and multiple web-based resources. Local alternating quarterly free respite, fun accessible family events, and restaurant dine-outs are also available in Southeastern Wisconsin. For more information, visit SNAPPIN's website at http://www.snappin.org.