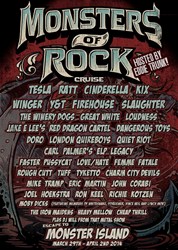 The Monsters of Rock Cruise is simply the greatest metal music fan experience ever produced, land or sea.
Miami, FL (PRWEB) July 16, 2013
This incomparable hard rock voyage sails from Miami, Florida on March 29 – April 2, 2014, showcasing rock legends including Tesla, Ratt, Cinderella, Kix, Y & T, Firehouse, Slaughter plus Winger celebrating the 25th anniversary of their debut album with performances by all of the original band members. In addition, the Monsters of Rock Cruise will feature special "Icon Series" performances by legendary drummer Carl Palmer of Emerson, Lake & Palmer fame, giving passengers a rare opportunity to experience a true 70's rock legend. Fans can expect an explosion of big hair and glam style coupled with non-stop 80's style hard rock music, entertainment and fun. Tickets go on sale today, July 16, 2013 at 3pm EST. Fans are encouraged to visit the website at http://www.MonstersOfRockCruise.com to find out more and to reserve their stateroom.
Joining the "Monster" headliners is an epic Metal lineup featuring artists from around the world, including The Winery Dogs, Great White, Loudness, Jake E. Lee's Red Dragon Cartel, Dangerous Toys, Doro, London Quireboys, Quiet Riot, Faster Pussycat, Love/Hate, Femme Fatale, Rough Cut, Tuff, Tyketto, Charm City Devils, Mike Tramp, Eric Martin, John Corabi, Joel Hoekstra, Ron Keel, Richie Kotzen, Moby Dicks (featuring members of Whitesnake, Foreigner, Vince Neil and Lynch Mob), The Iron Maidens, Heavy Mellow, Cheap Thrill and more to be announced. In addition, radio personalities including Eddie Trunk, Luc Carl, Nikki Blakk and DJ Will plus world-renowned rock photographer Mark Weiss add even more to the fan experience.
The cruise is based on the legendary rock festival at Castle Donington, England where thousands of rabid fans converged on the soggy turf of Donington Park and became part of rock history as a memorable event was born…the Monsters of Rock! Fast forward to the present…the tradition of the Monsters of Rock continues, this time in the Bahamas aboard a luxury cruise ship, showcasing the greatest floating 80s hard rock festival in history.
For one all-inclusive price, fans will enjoy a myriad of special Heavy Metal concerts, events and activities, designed to please the most discerning rock & roll metal-head. While the music is the centerpiece, this is more than a "Concert Cruise" event…it is fantasy camp designed for interaction between artists and fans. The fun will begin the moment fans begin to board the beautiful MSC Divina, meeting new friends poolside during the kickoff Sail Away Concert.
In addition, will experience inviting Music Venues & Events, featuring artists performing all day and night on the Main Stage plus the famous Monster's Acoustic Stages, Back-Alley Stage and a Monster's first…the largest cruise ship Pool Stage in the world for partying under the stars. Plans are in the works for many more fan experience events and activities, all of which will be announced over the weeks to come.
The Monsters of Rock Cruise is a playground for the serious Heavy Metal enthusiast where music and a luxury cruise hook up for the vacation of a lifetime. Cruise reservations will open at 3pm EST on Tuesday, July 16, 2013. Cruise rates start at $999 per person (double occupancy) and will be sold a first-come, first-served basis exclusively through the Monsters of Rock Cruise website at http://www.MonstersOfRockCruise.com.