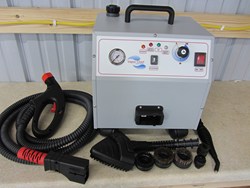 As Orlando states "The Vapor Chiefs are in use all day every day. They never break. They have outperformed any steam cleaner I have ever had. They make me money and the price was incredible for what you get compared to the competition."
New Milford, NJ (PRWEB) July 17, 2013
Kleen Car in New Milford NJ announces the all new vapor chief commercial steam cleaner being used in car washes all over the country to help with spot cleaning, complete interior detailing, and individual profit operations within the washes.
The Vapor Chief commercial steam cleaner is so versatile and so effective that now many car wash owners use it in various areas of the wash. With the assistance of Kevin Farrell, owner of Kleen car, these car washes have been able to develop new profit centers within the wash using this powerful vapor steam cleaner.
Many car washes have now adapted detailing in their washes as customer request this service and a car wash knows it can be very profitable. Some car washes will perform express interior details as the vapor chief steam cleaner is very powerful and can make quick works of carpeting, seats, door panels, consoles, and more in very little time. Steam is the preferred method of cleaning as it's fast, and the super hot vapor from the vapor Chief will clean quickly and effectively while drying fast.
Problems solved with the Vapor Chief
Many car washes in the past have resisted implementing steam cleaning because of the steam cleaner choices. Many models just were not commercial grade and since a car wash is in operation for 10 hours per day, the steam cleaner needed to be able to operate all day long at full efficiency. Many car washes needed to purchase multiple units for multiple bays. Either the full commercial steam cleaners were too expensive to equip all the bays, or they resorted to purchasing cheaper models that were non commercial grade (even though the companies claimed they were). These cheaper steam cleaners just did not hold up and either performed poorly or broke down frequently. The new version of the Vapor Chief not only is full commercial grade and will out-perform all the other steam cleaners that are 120 volts, but now with the price being dropped almost 40%, Farrell is now seeing many car washes purchase multiple units for all their bays.
Joe Orlando, owner of Crystal Car Wash in Suffern, NY has purchased and implemented steam cleaning with the Vapor Chief in all their bays. Orlando states "My guys can break any piece of equipment imaginable. That is why I have hesitated to implement steam cleaning in my wash. However, since I bought the Vapor Chiefs, we have had zero issues and now we are able to get cars clean with steam fast and effectively and the customers love it." Orlando now offers innovative cleaning choices such as baby seat cleaning, vent disinfection, and express interior cleaning with the Vapor Chief. As Orlando states "The Vapor Chiefs are in use all day every day. They never break. They have outperformed any steam cleaner I have ever had. They make me money and the price was incredible for what you get compared to the competition."
Other uses in the Car wash
In addition to cleaning interiors with the new vapor Chief, car washes can touch up wheels that did not come totally clean in the tunnel. They can clean door jambs, trunk sills, remove bug residue and get dirt out of cracks and crevices where the wash just could not get some extremely dirty cars totally clean. It's a time saver and sometimes a customer saver. And of course, the vapor Chief can be used to clean the chairs in the waiting room, the floor tiles and grout, and the bathroom when not in use to clean cars.