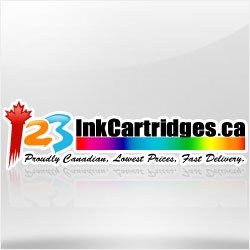 Lachine, QC (PRWEB) July 24, 2013
123InkCartridges.ca, a leading Canadian online retailer and distributor of high quality printing equipments and office supplies for both small home business and enterprise customers, has just launched a new promotional offer for its popular and practical Brother Smart All-In-One Color Inkjet MFC-J4310DW with best affordable price to customers who want the convenience of setting up a smart copy center from their own home or office.
The Brother MFC-J4310DW is a flagship of the Brother Business Smart Series, which is a product line of color inkjet all-in-ones that delivers the ultimate combination of easy-to-use features, fast print speeds, low cost printing and up to 11" x 17" printing in a compact design. The Brother MFC-J4310DW also features a 1.8" TouchScreen Display plus TouchPanel that only shows the keys needed. What's more, MFC-J4310DW adopts a new innovative print technology that allows user to store and feed paper in landscape orientation.
The 123inkcartridges.ca company has progressed to be the leading supplier of printer and printing related supplies with competitive prices. The company has been experiencing a considerable growth in the printing supplies market and is happy about the introduction of the Brother MFC-J4310DW All-In-One color inkjet printer into their line of products. The company has availed high-end e-commerce web services to the consumers with the aim of finding the one-stop source for printers and related ink with competitive price and quality. The details of Brother MFC-J4310DW Smart Inkjet AIO printer can be viewed at http://www.123inkcartridges.ca/print-ink-toner/PRN_MFC_J4310DW?locale=en .
123InkCartridges.ca constantly updates the affordable but practical printers and replacements on their site in order to ensure there are more options for customers to choose from. With each update, their product team make sure to do their homework so that each and every item on the site will meet consumers' needs.
About 123inkcartridges.ca
123inkcartridges.ca is one of the fastest growing online suppliers of high quality printing and office supplies in Canada. With its well-facilitated quality control and industry-recognized service and support centers, the company provides expertise and flexible business processes that enhance product features and minimize supply chain disruption. The company has built up its available inventory of quality accessories by negotiating low prices with suppliers. Its online catalogue of over 10000 of the best and latest products is available at http://www.123inkcartridges.ca.