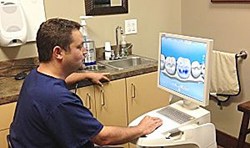 The age of the temporary crown is now behind us. -- Dr. James Wells, South Charlotte Dentistry
Charlotte, NC (PRWEB) July 19, 2013
Dr. James Wells of South Charlotte Dentistry is once again proving to be a frontrunner in dentistry taking his practice digital for specific types of restorations or tooth saving procedures. He has incorporated computer-aided design software that simplifies and shortens the time patients need to spend in his office.
"This new technology allows me to preserve more of the healthy tooth material of my patients while at the same time provide them a custom solution that looks very natural," says Dr. James Wells. The procedure starts by using a 3D camera to take an optical impression of the tooth that needs to saved, and then using software to create a custom-shaped crown to fit each individual patients need.
Once this state-of-the-art camera takes the optical impression, the image is sent to a milling machine or chamber on site to begin the process of building the tooth. Using this new CAD/CAM (computer-aided design and computer-aided manufacturing) approach allows Dr. Wells to start will a small block of porcelain to design every detail of a patient's restoration including the shape, size, color and ridging of each tooth. Once the tooth is designed, it is then fitted, polished and bonded.
"We no longer need to take messy impressions or images using traditional methods," says Dr. James Wells. "The age of the temporary crown is now behind us. In just one visit, we can customize a solution to a broken or decayed tooth by building an all ceramic, color-matched crown on premises that will last for a very long time," he added.
Wells states that the entire procedure takes about an hour saving patients both time and oftentimes more of the tooth itself. Patient's also experience less tooth sensitivity and post-operative concerns with the new Cad/Cam system. "These new technology has proven to be precise, safe and very effective," says Dr. Wells. "And the great news for patients is that the new tooth has a non-abrasive surface and is basically with plaque resistant."
For more information on good dental hygiene and oral health, contact Dr. James Wells at http://www.southcharlottedentistry.com or call (704) 759-0908.