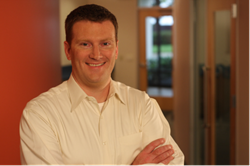 Los Angeles, CA (PRWEB) July 18, 2013
Hyland's, Inc., the oldest and largest manufacturer of homeopathic over-the-counter medications in the United States, announced today that Les Hamilton has been promoted to executive vice president of Hyland's, Inc. and vice president of sales of Standard Homeopathic Company, parent company to Hyland's, Inc. Hamilton joined the company approximately 18 months ago as Vice President of Sales of Hyland's, Inc.
Hamilton has over 15 years of experience in the consumer products industry and sales and marketing of over-the-counter drugs. As executive vice president of Hyland's, Inc., Les will continue to guide the company's sales organization in the food, drug and mass channels as well as the natural markets. He will also take a more active role in the executive leadership of the company.
"Over the last year and a half, I have seen Hyland's sales growth outpace the industry, due to the hard work of the entire Hyland's team and its efforts to provide consumers natural solutions to feeling better," said Hamilton. "I feel honored to be leading such a great group of people and am excited to see where the next few years take us as we continue to offer our retail partners safe, effective and natural medicines that will help grow their business."
Hamilton joined Hyland's, Inc. in October 2011 from The Emerson Group where he served as Field Sales Manager for seven years. While with The Emerson Group, Hamilton managed accounts of all sizes, most notably the Target business for all of Emerson's OTC products. Hamilton's prior experience includes almost 10 years at Target Corporation where he held different positions including category manager for numerous pharmacy categories and all OTC private label items. Hamilton graduated from Indiana University with a Bachelor of Science degree in both Marketing and Management.
"We are very pleased to have Les Hamilton expand his role with Standard Homeopathic Company and Hyland's, Inc.," said Dale Nepsa, president of Hyland's, Inc. "Les has been a tremendous asset to the organization as we continue to gain category share. We look forward to more years of sales growth under his leadership."
# # #
About Hyland's Inc.
Now in its 110th year, Hyland's, Inc., a division of Standard Homeopathic Co., develops homeopathic medicines with the highest-quality natural ingredients, following the strictest standards of preparation. With its commitment to excellence for over a century, Hyland's consistently provides quality and integrity in every product. From Hyland's Baby Teething Tablets to Hyland's Calms Forté, Hyland's cares for families at every stage of life. Consumers can trust all of Hyland's products to be natural, gentle, effective and safe for the entire family. For more information on products, visit http://www.hylands.com or http://www.facebook.com/Hylands.Health.