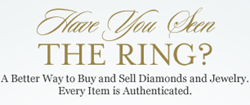 Ashley is a very courageous woman and no one should be burdened by finances after such a tragedy.
Aurora, Colorado (PRWEB) July 19, 2013
July 20th, 2013 marks the one year anniversary of the heartbreaking shooting in the Century movie theater in Aurora, Colorado. Though the community has done plenty of healing since then, many of the victims and their families are still recovering – physically, and financially. That's why in honor of the upcoming anniversary, Phil Johnson, the founder of Have You Seen the Ring, will be donating all the profits from his company's new Loose Diamonds program to HelpAsh – the charity for recovering victim Ashley Moser.
Johnson began Have You Seen the Ring when he moved to the United States from the United Kingdom, wanted to propose to his girlfriend, and saw that all his choice rings were well over his budget. He decided to start up this company to offer special engagement rings at more reasonable prices, while also creating a place for people to sell their old engagement rings for a decent return. Thanks to his site, buyers on a budget can find new and used engagement rings and loose diamonds that fit both their aesthetic and their price cap.
Due to the success of this endeavor, Johnson wanted to spread the wealth. When he heard that Aurora shooting victim Ashley Moser, who suffered numerous gunshot wounds and is now paralyzed, was struggling with her medical bills and adjusting to her new life, he thought this was the perfect opportunity. "Ashley is a very courageous woman and no one should be burdened by finances after such a tragedy," Johnson says. "We're honored to be able to provide a contribution – it's the least we can do."
26-year-old Moser has made a lot of progress in the past year; her injuries have not prevented her from enjoying many activities such as the Paralympics and outdoor excursions with Adaptive Adventures. However, there have been bumps in the road – losing her health insurance has caused her to struggle to get the physical therapy she needs – and the kindness of Phil Johnson and Have You Seen the Ring will be an immense help.