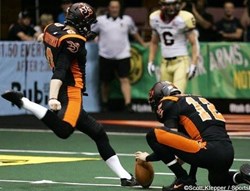 I am really excited to get the opportunity to help Billy on his Kicking For The Dream project. Kyle Brotzman.
Phoenix, AZ (PRWEB) July 19, 2013
Arena Football League (AFL) kicker Kyle Brotzman, of the Utah Blaze has joined Kicking For The Dream's effort to fight ovarian cancer according to NFL Kicker, and Kicking For The Dream founder, Billy Cundiff.
"We are excited that Kyle has joined Kicking For The Dream," says Cundiff. "Kyle is a great kicker and a great person. He has consistently given back to his community. We are honored that he has become one more kicking specialist who is helping to raise awareness about ovarian cancer."
Brotzman says he is glad to help Cundiff with this very important project.
"I am really excited to get the opportunity to help Billy on his Kicking For The Dream project," says Brotzman. "It's a great project, and I hope others will show they think so by also joining."
Go here for Kyle Brotzman's Kicking For The Dream page.
Brotzman (5-10, 193, Boise State) served as Utah's kicker for every game during the 2012 season and successfully connected on 124 PAT attempts, finishing second on the Arena Football League's single-season record list. He averaged 54 yards per kickoff while posting 37 touchbacks on his 158 attempts.
As a rookie in 2011, Brotzman joined the Blaze for the final third of season, serving as the team's kicker for six games. He connected on 41 PAT attempts and a 34-yard field goal. Brotzman averaged just over 53 yards per kickoff and registered touchbacks on 13 of his 52 attempts.
Throughout his tenure in Utah, Brotzman became known for his skillful onside kicks. With Brotzman handling kicking duties, the Utah Blaze successfully recovered six onside kick attempts in 2012, tying as the most in the Arena Football League.
ABOUT KICKING FOR THE DREAM:
Billy Cundiff, who has been an NFL kicker for over 10 years for teams such as the Cowboys, Saints, Browns, Ravens and Redskins, launched Kicking For The Dream in May of 2013, as an effort to support Colleen's Dream Foundation, a foundation which raises money to support research for the early detection of, and improved treatment for, ovarian cancer.
ABOUT COLLEEN'S DREAM FOUNDATION:
Colleen's Dream Foundation started in 2012 and supports ovarian cancer research for the early detection of, and improved treatment for, ovarian cancer.
The story of Colleen's Dream started in 2007 when Billy Cundiff's mother-in-law, Colleen Drury, was diagnosed with late-stage ovarian cancer. It was only then that Colleen and her family realized a new world that was filled with invasive surgery, harsh chemotherapy, and lots of uncertainty.
Ovarian cancer is often referred to as "the silent killer" because many women do not discover their disease until it is in the late stages, which leads to many women succumbing to the disease within a short period of time. Unlike cervical or breast cancer, ovarian cancer does not have a standardized early detection procedure. When it comes to women's health, ovarian cancer proves to be one of the deadliest diseases.
Colleen's Dream Foundation believes it is important to raise money for research that will lead to reliable early detection testing and improved treatment for ovarian cancer. Because so little is known about ovarian cancer in proportion to other women's health issues, we have an incredible opportunity for research and education.
Colleen's Dream is working with some of the top research hospitals and universities that are researching ovarian cancer. By offering seed funding to young investigators, the Foundation funds cutting-edge research by some of the brightest, young minds in the world.
Colleen's Dream Foundation is a qualified 501 (c)(3) tax exempt non-profit organization based in Phoenix, Arizona.