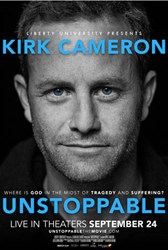 Lynchburg, VA (PRWEB) July 20, 2013
Work has wrapped up on Christian actor and producer Kirk Cameron's new film, "Unstoppable," made in partnership with Liberty University. The movie, which aims to answer some of life's toughest questions about suffering, will be released in theaters Sept. 24. Liberty will host a special live premiere broadcast from its campus.
View the movie trailer at http://www.Liberty.edu/KirkCameron and learn more about Liberty University and the partnership with Kirk Cameron.
Cameron's relationship with Liberty began when he visited the campus for the first time last fall as a guest speaker at Convocation. Since then, he has traveled two more times from his home in California to Lynchburg, Va. In March, it was Liberty Chancellor Jerry Falwell, Jr.'s turn to trek across the country, meeting Cameron for a television interview on his own West Coast turf for the Trinity Broadcasting Network's "Praise the Lord," where Cameron announced the film and the partnership with Liberty.
Starring in the film, Cameron recounts the personal experience of a friend's son who battled cancer, then goes back through history showing dramatic biblical accounts of human suffering.
"It's really a movie about the unstoppable victory of the Gospel through history," Cameron said.
When his friend's son died, Cameron said he immediately found himself asking God why He didn't heal him.
"That's one of the questions that wrecks people's faith, that's a question that turns Christians into atheists, it's one of the big hand grenades that unbelievers like to throw at communities of faith," he said. "I'm looking to answer this by taking you on a journey, back through the Garden of Eden to the creation of Adam and Eve and the fall … all the way through to Israel, Christ, and the destruction of the temple in A.D. 70, to show that all kinds of tragedies have taken place in the plan of God and He steers that tragedy and uses it to accomplish what He loves and ultimately restore all things back to Himself."
The 90-minute movie was filmed in California and South Dakota. Students from Liberty's new cinematic arts center were involved in some of the filming and in post-production work.
The film gained attention on a social networking site on Thursday after fans alerted Cameron that they were blocked from posting links to the film's website, unstoppablethemovie.com. Cameron announced on his own fan page on the social networking site that the company had blocked links because the content was labeled "abusive and unsafe."
After the company did not reply to an email from Cameron, he alerted more than 500,000 of his fans on the site; he received more than 24,000 "likes" and 5,000 comments in just over an hour and the company removed the ban. Cameron said he did not receive an explanation.
On Friday another social networking site blocked people from viewing the film's trailer for a certain time period.
"This is a real victory," he told FOX News. "If we work together, we really do have a voice."
Read more about Cameron and his partnership with Liberty University in the Summer 2013 Liberty Journal.
About Liberty University
Liberty University, founded in 1971, is the largest private, nonprofit university in the nation, the largest university in Virginia, and the largest Christian university in the world. More than 100,000 students attend classes on its 7,000-acre residential campus and study in its thriving online education program.