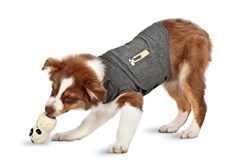 Our new ThunderToy and ThunderTreats were created to help solve those problems associated with pet stress and anxiety- naturally and effectively.
Durham, NC (PRWEB) July 23, 2013
Most famous for their ThunderShirt for dogs and cats, which has been reducing anxiety among hundreds of thousands of pets around the world since 2009, ThunderWorks and ThunderShirt Founder Phil Blizzard is thrilled to introduce two new products which have joined the company's growing line of offerings- the ThunderToy and ThunderTreat.
The new ThunderToy and ThunderTreat by ThunderWorks is a thoughtfully designed stuffable chew toy and calming treat combination that helps calm and distract stressed or anxious dogs, for example during storms, travel or separation from families.
"Two of the most common negative behaviors reported when a dog is stressed or anxious are problem chewing, often causing destruction, and uncontrollable barking," Blizzard said. "Our new ThunderToy and ThunderTreats were created to help solve those two problems directly, naturally and effectively. And they are a great compliment to our ThunderShirt's calming benefits."
The ThunderToy is available in two sizes- small and large- and retails for $12.95 and $14.95. The ThunderTreat is available in 4oz. ($7.95 MSRP) and 8oz. ($9.95 MSRP).
If you would like more information about these exciting new products by ThunderWorks, please visit http://www.ThunderShirt.com. If you are a member of the media and would like to request a product sample, high-resolution image or additional product information please contact please contact Kerry Sutherland at K. Sutherland PR, Kerry(at)ksutherlandpr(dot)com or 949-328-4895.
###
About ThunderShirt
Founded in 2009 in Durham, N.C., Thundershirt's mission is to bring relief to the millions of dogs, cats and their families struggling to cope with anxieties. The Thundershirt is designed to apply a constant, gentle pressure to a dog or cat's torso creating a dramatic calming effect for most users. Thundershirt continues to investigate anxiety and fear issues with scientific-based studies and surveys from recognized veterinarians and pet owners. Thundershirt has already helped hundreds of thousands of dogs across the country and around the world.
The company also donates thousands of Thundershirts and funding to rescue groups and shelters to help these organizations manage their anxiety cases and find permanent homes. Thundershirts are sold online at http://www.thundershirt.com and by retail stores, veterinarians, trainers and kennels across the country.
Online: thundershirt.com
Facebook: facebook.com/Thundershirt
Twitter: @Thundershirt
Pinterest: pinterest.com/Thundershirt
On Instagram: @ThunderWorks
About ThunderWorks
In recognition of the company's expanding product line into more anxiety solutions, Thundershirt has changed its corporate name to Thunderworks. As always, the company is committed to developing calming pet products that are effective, simple to use and strengthen the bond between pet and pet parent. Together, let's be better humans to our pets. Learn more at http://www.ThunderWorks.com.