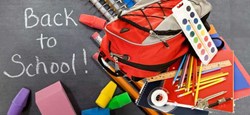 Houston, TX (PRWEB) July 24, 2013
American Textile Recycling Service (ATRS) debuts its "Shop and Recycle" Campaign to coincide with back-to-school shopping and tax-free weekends this month. Partnering with Brixmor Properties nationwide including—Hunter's Creek Mall, Orlando, FL; The Centre at Preston Ridge, Frisco, TX; Cedar Bellaire, Bellaire, TX and Hall Road Crossing, Shelby Township, MI— ATRS will host fun, friendly drop and drive recycling events at key shopping centers in three states during the first two weekends of August 2-11, 2013.
According to the National Retail Federation, back-to-school shopping is the second most revenue-generating shopping event of the year, eclipsed only by holiday shopping in December. Retailers anticipate over 16% of annual shopping revenue will be generated this month with the bulk being spent on clothes, electronics and school supplies.
The Shop and Recycle initiative helps educate families, moms and those all important "millennial" back-to-school shoppers about the benefits of recycling while providing a convenient point-of-purchase solution for recycling and donating last season's unwearable, outgrown and unwanted clothes, shoes, toys and other household textiles. To date, ATRS has diverted over 155 million pounds from local landfills in its regions and has donated over $4M to worthy charities in the process.
With help from anchor retailers in these centers, the friendly recycling teams from ATRS will be on hand to distribute shopping coupons, retail store discounts and other promotions to help visitors score bargains and fulfill their shopping lists.
About BRIXMOR
Brixmor Property Group is the second largest owner of community and neighborhood shopping centers in the U.S. and has been a leader in retail property redevelopment over the last decade. Brixmor actively manages a national portfolio of approximately 600 retail properties, encompassing more than 94 million square feet of retail space, which are strategically located across 39 states and primarily anchored by grocers or leading discounters. Brixmor is the largest landlord (by gross leasable retail space) to The TJX Companies, The Kroger Company, Ahold USA, Dollar Tree, Inc. and Staples, Inc. Brixmor is headquartered in New York, NY with multi-disciplinary, full service regional and local offices across the country.
About ATRS
ATRS is the fastest growing textile recycler in the U.S. Its socially responsible business model provides free textile recycling solutions for the public, job stimulation for local communities and abroad and much-needed funding for worthy local charities. With branches in 11 markets including Texas, Florida, Michigan, Tennessee, Georgia, Oklahoma, Arizona, Colorado and Southern California, ATRS Recycling is committed to keeping textile waste from local landfills and promoting a greener tomorrow.