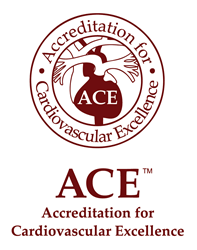 I strongly believe every cath lab should be accredited by ACE and I am excited by the rapidly growing number of cath labs that are applying for accreditation.
J. Jeffrey Marshall, MD, FSCAI, Immediate Past President, SCAI
(PRWEB) July 24, 2013
The Accreditation for Cardiovascular Excellence (ACE) announced this week that updated standards for cardiac intervention procedures have been published and are now available for download on the ACE website (http://www.cvexcel.org). ACE updated its Cath/PCI standards to align with the recently published clinical competency document for PCI which includes information on physician training, clinical competency criteria and the updated expert consensus document published in 2012.
"This is the first major change to cardiovascular intervention standards, driven by the latest available science," said Bonnie H. Weiner, M.D., MSEC, MBA, FSCAI, FACC, ACE Board Chair and CMO. "Incorporating these into the ACE accreditation program establishes comprehensive guidelines for interventional cardiology best practice." Outcome metrics have been revised to incorporate the AUC standards as reported by the NCDR Cath/PCI registry.
J. Jeffrey Marshall, MD, FSCAI, Immediate Past President, The Society for Cardiovascular Angiography and Interventions (SCAI) and Medical Director, Cardiac Catheterization Laboratory, Northeast Georgia Heart Center, Gainesville, GA, has long been an advocate of ACE's efforts to introduce quality standards to the cardiac cath lab. "I strongly believe every cath lab should be accredited by ACE and I am excited by the rapidly growing number of cath labs that ACE reports are applying for accreditation," said Dr. Marshall. "Cath lab accreditation is our ACE in the hole!"
Cardiac cath labs will be held to the new standards beginning August 1, 2013 "The 2013 update of clinical competence statement on coronary artery intervention procedures is another tool by which ACE can help facilities implement the latest science," notes Mary Heisler, RN, BA, ACE Executive Director. "Like so many cardiac cath labs have already, now is the time to sign up with ACE. ACE keeps your cath lab ahead of the curve in meeting quality initiatives. See how ACE can assist you on your quality journey."
About Accreditation for Cardiovascular Excellence
ACE, an independent organization sponsored by the Society for Cardiovascular Angiography and Interventions (SCAI) and the American College of Cardiology Foundation (ACCF), offers independent evaluation and monitoring of facilities that provide cardiovascular care. By reviewing facility and operator performance and comparing clinical decision-making to nationally accepted best practices, ACE peer review and accreditation services plays a critical role in continuous quality improvement programs. Learn more at http://www.cvexcel.org.