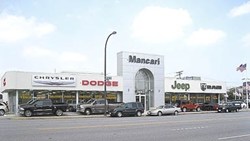 'We understand many of our customers have busy week day and Saturday schedules, so we are looking forward to this event to assist them in learning more about our vehicles and providing answers to any questions they may have.' -Ed Tapper, Sales Manager
Oak Lawn, IL (PRWEB) July 25, 2013
Mancari's Chrysler Jeep Dodge Ram of Oak Lawn is known for setting themselves apart from the competition, and continues to do so this month by offering extended customer service hours this Sunday with their "Open House" event. On Sunday, July 28th, customers are encouraged to visit Mancari's of Oak Lawn between the hours 12:00 p.m.- 4:00 p.m. to speak with the knowledgeable staff and get a better look at the inventory on the lot.
The Blue Law prohibits the sale of vehicles on Sundays in the State of Illinois, however this event is not for customers to walk away with a new vehicle. This open house is set up more as window shopping experience, aimed giving busy consumers a chance to learn more about the choices they have in vehicle selection during Sunday hours that may be more convenient for them. The Mancari's sales staff will be available Sunday to answer any questions guests may have on particular vehicles.
Sales Manager, Ed Tapper, shed some light on this event, stating, "We understand many of our customers have busy week day and Saturday schedules, so we are looking forward to this event to assist them in learning more about our vehicles and providing answers to any questions they may have."
The Sunday open houses will give guests and potential customers the opportunity to explore the Chrysler, Jeep, Dodge and Ram vehicles on the lot at Mancari's without the pressure of purchasing that day.
About Mancari's Oak Lawn
As one of the largest Chrysler Jeep Dodge RAM dealerships in the Chicagoland area, Mancari's of Oak Lawn has served Illinois loyally for more than 45 years with some of the highest customer satisfaction ratings in the automotive industry.
For more information visit us today at 4630 W 95th Street, Oak Lawn, IL 60453 or at http://www.mancari.com. You can also become a fan of Mancari's by liking our Facebook page.