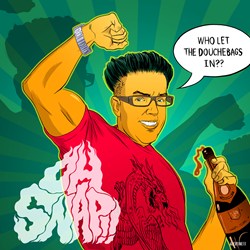 Teaneck, NJ (PRWEB) July 29, 2013
Oh Snap!! is no stranger to pointing out some of the absurdities of modern nightlife. Back with a new single and his tongue planted firmly in cheek, this time around he's finally asking the question on everyone's lips: "Who Let The Douchebags In?"
Sick of the tight t-shirts, over-applied hair gel and the extremely potent stench of cologne in nightclubs, Oh Snap!! takes aim at the overly lame trends sweeping certain parts of the world's nightlife (*cough* Jersey Shore *cough*) and calls it as he sees it: ridiculous. But that doesn't stop him from getting into the spirit first in his very entertaining music video. Shirts are optional. May contain traces of drag. You have been warned.
The single will be released on Radikal Records on August 6th, available on iTunes, Beatport, and other streaming services. The complete single package includes remixes by Bombs Away, J. Rabbit and The Mane Thing. All tracks are available for preview and purchase right now on the Radikal Records website (http://radikal.com).
Track Listing
01 Who Let the Douchebags In (Original)
02 Who Let the Douchebags In (Bombs Away Remix)
03 Who Let the Douchebags In (MNNiA Remix)
04 Who Let the Douchebags In (Danny T Remix)
05 Who Let the Douchebags In (Lazy Ants Mix)
06 Who Let the Douchebags In (J.Rabbit Remix)
07 Who Let the Douchebags In (No Body Remix)
08 Who Let the Douchebags In (The Mane Thing Moombahton Remix)
About Radikal Records: Radikal Records offers artists national distribution through SONY/Red Distribution, electronic distribution through iTunes, eMusic, Amazon and all major downloading services, and other resources including production, artist development, product marketing and licensing opportunities. In recent years, Radikal has worked with many artists including: 2 Unlimited, N-Trance, Zombie Nation, ATB, Yello, Scooter, Schiller, Blank & Jones, Cosmic Gate, Sinead O'Connor, Voodoo & Serano, Apollo 440 and others. Visit http://radikal.com for more information.