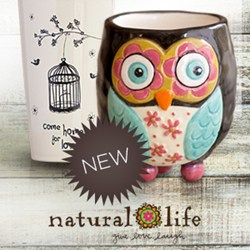 Natural Life offers colorful clothes and unique gifts.
New York, NY (PRWEB) July 30, 2013
A Silver Breeze proudly launches the new Natural Life gift and accessory collections. The collections feature accessories, household items, t-shirts, wallets, wristlets, bags, and wooden artwork. Natural Life evolved from founder Patti Hughes' love for creating sentimental photo keepsakes. Natural Life offers colorful clothes and unique gifts that represent the belief that thoughtful and heartfelt products inspire others to love and spread joy.
The Natural Life collections feature a wide range of accessories, from scarves to matching bracelet and headband sets, art and soulful themed t-shirts, home accessories like ceramic coffee mugs, pillows and artwork, as well as wallets and handbags. Natural Life accessories and gifts are made with materials like vegan leather, cotton canvas and more. The uniquely designed accessories feature themes of faith, peace, and life with inspirational and positive messages.
Gifts and accessories are affordably priced between $9.00USD and $28.00USD. For more information visit A Silver Breeze in store or online at: http://www.asilverbreeze.com
About A Silver Breeze
A Silver Breeze was founded with a philosophy in mind: give women the freedom to be themselves and embrace a sense of style that's unique to each woman. A Silver Breeze offers women quality sterling silver jewelry that is interchangeable, like Kameleon, Chamilia, and Bella Ryann. You will also find gift ideas like Natural Life, WeWOOD and Bering Watches.
Stores are located at the Aviation Mall in Queensbury, New York, at 516 Broadway in Saratoga Springs, New York, and online at: http://www.asilverbreeze.com. Please visit the online store to see all the available collections. A Silver Breeze ensures every customer's shopping experience will be an unforgettable one.