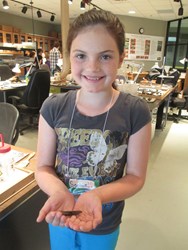 Peccaries are the American version of a pig. Though the two groups are related, they are in separate families
Johnson City, TN (PRWEB) July 31, 2013
A Paleo Camper recently discovered a peccary tusk during East Tennessee State University and General Shale Brick Natural History Museum and Visitors Center at the Gray Fossil Site's summer camp activities.
Sophie Day, 9, is from Kingsport and made the discovery. She hopes to one day become an architect. "Finding the fossil made me feel very happy and excited, because my favorite part of camp is digging on the site," said Day.
As part of Paleo Camp programming, participants are allowed to search the site's spoil piles. Spoil piles include dirt that had to be moved when the museum was built. Campers process the same spoil piles as paleontologists and volunteers working with the museum.
There have been at least three kinds of peccaries discovered at the Gray Fossil Site, but because they are rare at the site every specimen is significant. Peccaries are the American version of a pig. Though the two groups are related, they are in separate families (Suidae – old world pigs and bores; Tayassuidae – peccaries).
Today's peccaries are much smaller than the fossil forms found at Gray. Most live in Central and South America, but the collared peccary spills into the desert in the Southwestern U.S. In the geologic past, however, peccaries roamed much of North and South America.