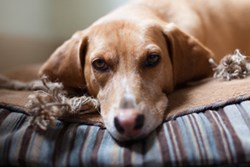 Don't believe it when you are told, 'There is nothing more we can do.' We can provide comfort care!
(PRWEB) August 31, 2013
Veterinary hospice, an evolving movement in animal care, has a new resource. A new Facebook page, New York Veterinary Hospice, has launched with a monthly Q&A to help New York pet owners learn about hospice for their pet, ask questions and connect with other pet owners and hospice professionals in their area to provide physical and emotional support.
Like human hospice, veterinary hospice is a philosophy of care that focuses on the palliative care of a terminally or seriously ill patient's pain and symptoms, and attending to their family's emotional and spiritual needs.
Dr. Mary Craig, a local veterinarian with a mobile practice focused on end of life care is facilitating the Facebook page, New York Veterinary Hospice, to help educate pet owners about the options they have for providing comfort care to elderly pets with terminal illness or chronic debilitating diseases.
"The decisions we make toward the end of our pets' lives are so important," according to Dr. Craig, "and while euthanasia is often the final decision we make to end suffering, there are so many things we can do in the months before that point to relieve suffering, elevating and extending their quality of life. This is what hospice is!"
Anyone can join the Facebook community and participate in ongoing discussions to learn tips and tricks from others that are providing hospice care to their pets. Also visit the Gentle Goodbye web site for more information. The Facebook page will host regular Q&A discussion events and provide valuable information for pet owners.
Gentle Goodbye Veterinary Hospice & At-home Euthanasia is a mobile veterinary service owned and operated by Dr. Mary Craig in Westchester County, NY and Fairfield County, CT that offers in-home hospice and end of life care for pets.