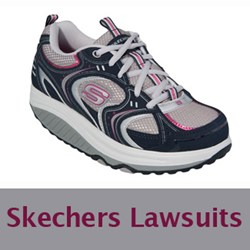 Wright & Schulte LLC, is dedicated to helping those injured by Skechers Shape-Ups receive the compensation they deserve. Call 800-399-0795 or visit www.yourlegalhelp.com today for a free consultation!
Columbus, OH (PRWEB) August 01, 2013
The experienced product liability lawyers at Wright & Schulte LLC have filed a Skechers lawsuit on behalf of an Iowa woman who suffered a fractured ankle when the Skechers Shape-Ups toning shoes she was wearing caused her ankle to collapse. This Skechers Lawsuit, (no. 3:13CV-444-R) was filed April 29, 2013 and is part of the multidistrict litigation established in the U.S. District Court of the Western District of Kentucky, Louisville Division (MDL 2308).
Wright & Schulte LLC is experienced in defending the rights of those who suffer injury due to defective or dangerously designed products. Our experienced Skechers lawyers have a proven record of successfully going up against large corporations. We encourage any individual who believes they have been injured due to Skechers toning shoes to speak to our Skechers attorneys by visiting yourlegalhelp.com or by calling 1-800-399-0795.
Broken Ankle Allegedly Caused by Unstable Rocker Bottom
Documents filed with the court explain that the plaintiff purchased her Shape-Ups in May 2011 after seeing advertisements that purported numerous health benefits from wearing the shoes. In those ads, Skechers claims that wearing the shoes can improve muscle tone in the abs, buttocks, and legs and can help wearers of the shoes get in shape without having to go to a gym.
According to the Skechers injury lawsuit, the woman was walking on a flat surface when without warning, the Skechers Shape-Ups toning shoes pronated inward, causing her to fall and her right ankle to collapse, resulting in excruciating pain. The plaintiff was seen at a local emergency room where x-rays showed a fracture of her right ankle. The plaintiff was referred to an orthopedic surgeon who informed her that she required a cast. The plaintiff had to wear the cast for six weeks, during which time she was unable to work.
The Skechers lawsuit also contends that the shoes provide no more health benefits then regular walking and athletic shoes. In fact, according to the lawsuit, the American Council on Exercise found that "there is simply no evidence to support the claims that these shoes will help wearers exercise more intensely, burn more calories or improve muscle strength and tone." [acefitness.org/getfit/studies/toningshoes072010.pdf June 2010]
Earlier this month, a federal judge approved a $40 million Skechers class action settlement involving some 520,000 claims. The Federal Trade Commission also barred Skechers from running advertisements about the toning shoes in the future. [bigstory.ap.org/article/judge-oks-class-action-settlement-over-skechers May 2013]
About Wright & Schulte LLC
Wright & Schulte LLC, a personal injury firm, is dedicated to the belief that America's legal system should work for the people. Every day, the attorneys of Wright & Schulte LLC stand up for the rights of people who have been injured by the negligence or misconduct of others. Whether it is a personal injury due to a highway accident, medical malpractice, product liability, nursing home abuse, a construction accident, wrongful death, or any other lawsuits we are always here to answer any questions and help in any way we can. It costs nothing to talk to us, so schedule a free initial consultation. There is no obligation. You can have the advice of a respected legal professional. Contact our office at yourlegalhelp.com or by phone at (937)-222-7477 to set up your free appointment.
Contact:
Wright & Schulte LLC
812 East National Road
Vandalia, Ohio 45377
1-800-399-0795
http://www.yourlegalhelp.com