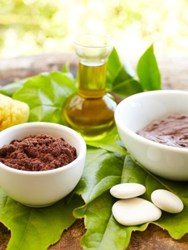 Laguna Niguel (PRWEB) August 03, 2013
Zion Health, leading eco-conscious body care manufacturer of natural clay products, announces that Whole Foods Market in Laguna Niguel, CA located on 23932 Aliso Creek Rd now carries Organic Healing Clay Soaps. Zion Health soaps are infused with essential oils made from high-grade bentonite clay (Kanwa) and 100% vegan.
Sourced from volcanic ash and ancient oceanic sediment, Kanwa clay is well-known for its high mineral content. As a base for all Zion Health natural soaps, Kanwa clay makes the line nutrient-rich, with more than 60 trace minerals in pure form.
The healing benefits of clay have been evident for generations globally and in Native American folk medicine. With its detoxifying properties and ability to magnetically bind pollutants and bacteria, Kanwa clay has been used successfully to treat various skin disorders including eczema, hives, psoriasis and acne. The clay is also thought to help rebuild tissue and reduce environmental damage, according to Linda Page, author of "Healthy Healings Detoxification: Cleanse, Purify and Renew."
Zion Health is pleased that Whole Foods Market in Laguna Niguel, CA now carries Ancient Clay Organic Soaps in invigorating scents with essential oils like tea tree, lavender and pineapple. Whole Foods Market is a leading grocer of the finest natural and organic foods and personal care products. With over 340 stores in North America and the United Kingdom, Whole Foods Market is committed to supporting organic agriculture from local producers and providing eco-conscious products.
The natural line of Zion Health organic Ancient Clay Soaps is now available at Whole Foods Market stores in Laguna Niguel, California at http://www.kanwaminerals.com and at health food markets and co-ops throughout the United States and Canada. Zion Health provides its consumers with pure skin and body care products that are 100% vegan, free of parabens, aluminum, and formulated using certified organic ingredients whenever possible. For more information on Zion Health products, go to: http://www.zionhealth.com.