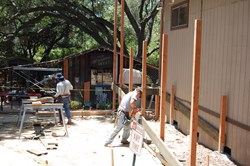 A generous grant from the Judith L. Chiara Charitable Trust has made renovation of the Community Room possible.
Pasadena, CA (PRWEB) August 01, 2013
The summer of 2013 brings the fulfillment of the vision to complete the multi-functional PWS Community Room on Pasadena Waldorf School's lower campus. Thanks to a generous grant from the Judith L. Chiara Charitable Trust, the school began the renovation of the interior in 2012 with the installation of hardwood flooring, new heating and cooling systems, new windows and doors, and a reorientation of the room to make more efficient use of space. Currently underway is the completion of the project, including a new public entry ramp and stairs, covered porch and deck, walking path and landscaping. The stand-alone building has already proven its versatility while hosting movement classes, music rehearsals and performances, school plays, class meetings, guest speakers and receptions.
Pasadena Waldorf School, founded in 1979, is one of over 1,000 Waldorf schools worldwide with over 90 years of experience offering inspired education. Pasadena Waldorf High School, which opened this year, joins 40 other Waldorf high schools now operating in North America. Waldorf education is one of the fastest growing independent school movements in the world.