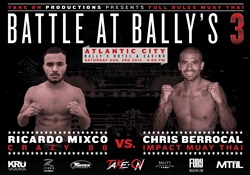 "It is events like these that create awareness for the sport and in turn creates more opportunities."

- Julius Park, Head Instructor
Baltimore, MD (PRWEB) August 03, 2013
Baltimore Muay Thai fighters, Keeman Diop and Ricardo Mixco of Crazy 88 MMA will both fight in Battle At Bally's III this upcoming Saturday, August 3.
Muay Thai is a stand-up combat sport that originated in Thailand. Referred to as "the art of eight limbs", Muay Thai is characterized by its use of hands, feet, knees and elbows. Unlike western styles of boxing and kickboxing, the style also uses a variety of clinching techniques.
Though Muay Thai is the sport of Thailand, it is gradually gaining popularity in western countries. Mainstream sports such as mixed martial arts (MMA) are heavily influenced by the style. The growing popularity of MMA is also lending popularity to Muay Thai as well.
Events such as Battle At Bally's are platforms to introduce people to the sport of Muay Thai and to showcase rising talent. The event is being coordinated by Take-On Productions and will be broadcast on Comcast Sports Net.
These fights will mark the amateur debuts of both Diop and Mixco. They have both participated in smokers (pre-amateur fights) previously, but never fights of this scale. They have committed themselves fully to preparing for this event with an intense fight camp.
Head Instructor, Julius Park said of the fighters, "This is a great opportunity for both of them. They have worked hard for this and deserve this. And it is events like these that create awareness for the sport and in turn creates more opportunities."
Diop and Mixco are set to take the stage at 6PM at Bally's in Atlantic City. For updates and to find out more about upcoming Crazy 88 events visit http://www.Crazy88BJJ.com or call (443) 283-1450.