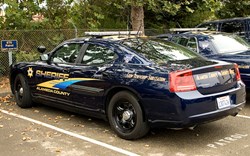 All of our 8 vehicles are up and running with the IP2 units.
Austin, TX (PRWEB) August 02, 2013
The Alameda County Sherriff's Office has equipped eight of their Sherriff's vehicles with Energy Xtreme's Independence Package®, mobile electric power idle reduction systems. Sustainability is an integral part of Alameda County's vision to become one of the best places in the country to live, work, and do business.
Energy Xtreme's mobile power idle reduction systems are a smart power management device that provides sustainable power, without engine engagement, to vehicles with demanding electrical needs. For the Alameda County Sherriff's Office, the system allows their vehicles full electrical systems – including, but not limited to, emergency warning lights and onboard computer equipment - to operate without having to idle the vehicle's engine. It saves fuel, cuts emissions and reduces air pollution by eliminating the need to idle, extending the life of the vehicle by mitigating engine wear and tear. The Independence Package technology was battlefield tested by the U.S. Army Test and Evaluation Command (ATEC) and is ranked "most promising solution" receiving a "take to war" designation. The system is completely silent and doesn't leave a heat trace, providing stealth capabilities.
"All of our 8 vehicles are up and running with the IP2 units. A fantastic job was done working around the configurations of four different types of vehicles and getting our deputies vehicles' out the door as fast as possible," stated Phillip Kobernick, Sustainability Specialist, County of Alameda, General Services Agency.
Alameda County, California has been recognized for being the 32nd Greenest Fleet in North America by demonstrating sustainable practices in fleet composition, fuel and emissions, policy and planning, fleet utilization, education, and executive and employee involvement.
###
Energy Xtreme, headquartered in Austin TX., is a mobile electric power company focused on developing intelligent power management systems with idle reduction capabilities. Named by Forbes as one of the most promising companies of 2012, we are dedicated to empowering fleet management and driving cost efficiency. Our award winning Independence Package® line of products provide unmatched mobile electric power for a vehicle's electrical needs, including lights, cameras, computers, power tools and hydraulic systems, without engaging the vehicle's engine. Our products have proven to help fleets significantly lower their fuel and maintenance costs while reducing emissions. Energy Xtreme's future-focused solutions are ideal for fleets in law enforcement, military, transportation, public works, telecom, utilities, oil and gas and work truck centric organizations. Additional information is available at http://www.energyxtreme.net. Follow us on Twitter@EnergyXtreme.