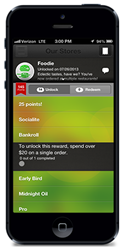 Our engaged restaurants see a 30-plus percent increase in order size on their mobile apps as compared to walk-in traffic
Boulder, Colorado (PRWEB) August 01, 2013
Today Splick-it, Inc. (http://splickit.com) released a full suite of retention, engagement and acquisition marketing tools for our mobile and online restaurant ordering platform aimed to help restaurants deepen the relationship with their customers.
With the recent addition of CEO Vijay Bangaru, product innovation and industry leading technology is a major focus. This suite of new marketing tools is just the beginning of what is coming from Splick-it in the upcoming weeks.
Bangaru arrives with the experience he gained as a technologist and product executive at Google, Microsoft and MapQuest. "Our engaged restaurants see a 30-plus percent increase in order size on their mobile apps as compared to walk-in traffic," Bangaru says.
"We want to continue to provide our restaurant customers with best-in-class product features as well as experienced account managers to help them grow and manage their business even more effectively."
Splick-it's marketing tools are deeply integrated into the functionality of the online and mobile ordering platform and include a broad spectrum of features.
Restaurant Loyalty Program includes:

Points management
Customer purchase using points instead of cash
Optional custom integration of existing loyalty programs and POS systems
Restaurant Gamification & Rewards Platform includes:

Customizable badging and flair
Customizable gaming
Gifting – 'Buy A Friend Lunch'

Send gift to any email address
Gift giver is only charged if gift is redeemed
In-app Notifications - communicate at multiple levels

Login screen promotions
Store level promotions
Final payment screen promotions
Splick-it is in the business of helping brands deepen their relationships with their customers. This suite of tools from Splick-it makes it easy for restaurants to connect with their customers in meaningful ways, learn more about their guests, retain and grow their business.
About Splick-it
Splick-it (http://splickit.com) powers branded mobile apps and online ordering platforms for restaurants. In addition to a robust and scalable technology platform, Splick-it offers a premium client experience that includes excellent customer support, marketing services and account management to help restaurants grow their business. The flexible Splick-it platform makes it easy for restaurant customers to order, pay, receive rewards and manage their loyalty points via mobile apps or online.
Contact:
Splick-it
Anke Corbin
acorbin(at)splickit(dot)com
760-707-8202