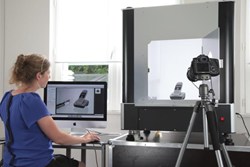 (PRWEB) August 03, 2013
The PackshotCreator software for Mac includes many features and offers a revamped interface.
This new software is very easy to handle; it represents the PackshotCreator trademark user-friendliness.
Whether you are a beginner or an expert user, the Mac software allows you to create in just a few clicks your first pictures and offers many powerful tools to generate enriched animations or to automatically mask images.
The software was developed on 3 main concepts:

SIMPLICITY: all workflows and features have been simplified. The most essential features are already displayed.
USER-FRIENDLINESS: each step has been designed in a logical and natural way. Our experts have been working on all the main practical aspects of the software: improved ergonomics, workflow, task automation, settings saving…
QUICK WORKFLOW: each detail has been rethought to gain time. Everything was made to create images and animations quicker, from the software source code to the features.
The Mac software is now available for all photo and 360-degree capture solutions from the PackshotCreator range.
It replaces the light version of the PackshotCreator 2012 software for Mac and is now fully compatible with Mac OS X 10.8.
About PackshotCreator
PackshotCreator is the leader of solutions for product photos and animations for e-commerce and marketing. Our range of 26 equipments and 6 softwares offers a wide response to the needs and concerns from several sectors as fashion, jewelry, electronics, furniture, foods, decoration. PackshotCreator helps companies to make their online shops more attractive and more profitable and their communication more interactive.
With 11 years of innovation and know-how, PackshotCreator has been offering solutions to more than 6000 firms and 20000 users in 35 countries such as: L'Oréal, Nivea, AlloPneus.com, Atoll, Aubade, Carphone Warehouse, Beiersdorf, Christian Louboutin, Decathlon, Dell, Essilor, Gemplus, GrandVisison, GrosBill.com, Henkel, Hermès, L'Occitane, Lancôme, Lanvin, Pfizer, Philips, Procter & Gamble, Sagem, Schneider Electric, Spartoo.com, Swatch, Thomson, Tissot, Tupperware.