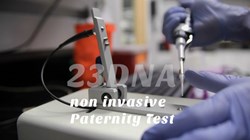 Prenatal Paternity DNA testing at affordable price, get tested today.
(PRWEB) August 04, 2013
23DNA.com is launching a new website for the New Jersey area. With DNA kits now available for online purchase, it is easier than ever to take a paternity test and have indisputable proof of the child's father. "There are many reasons why people may need a paternity DNA test, but the reason we hear about the most is for custody," a company spokesperson said. People who desire part-time or full-time custody of their children often must take a paternity DNA test, but they are not aware of their options—where to go and who to talk to. 23DNA offers affordable paternity DNA testing, and customers in New Jersey will now have ready access to their low-cost testing services and kits through the new website targeting the New Jersey area.
Using an online form, 23DNA customers can order their DNA testing kit and have it sent to them anywhere in the United States. 23DNA personally guarantees the quality and condition of the kit prior to being sent out, and also guarantees accurate and efficient results once the kit is processed. "We guarantee the results, the timeliness of our services, and your privacy," a company spokesperson said. 23DNA also offers free and confidential consultation through their website.
Children receive their DNA equally from their biological parents. Paternity DNA tests compare the child's DNA with the DNA of the alleged father to see if they match. A paternity DNA test performed correctly in one of 23DNA's certified laboratories can give indisputable proof of a biological match between the child and the father.
About 23DNA:
23DNA derives its name from the fact that the human body contains 23 paired chromosomes. It is a DNA agency that specializes in providing a variety of DNA testing services and accurate results at affordable rates. 23DNA is also known for its friendly, professional, discrete customer service. Rhona, a 23DNA customer, said, "The staff I dealt with were all courteous and professional and really put me at ease." Go to 23DNA blogs page to see more customers reviews.
For more information, visit 23dna.co, or call 1-866-940-4362.